photo by Pasi Aalto
A growing number of architects and designers are adopting reuse and reclaim material practices as a response to enviromental issues and at the same time a turn to a more rational and conscious approach to building and construction. This project by TYIN tegnestue is such an example, one that manages to address both issues of material reclaim processes and handling historical and cultural heritage within different contexts of usage. Naust paa Aure is a vacation cabin located on the outermost reaches of the Moere-coast, built on the place of an old Norwegian boathouse.

photo by TYIN tegnestue Architects
The boathouse is a cultural and historical hallmark of Norways coastal regions, where fishing used to be the primary profession. They have traditionally been used for storing boats and fishing gear, but today many of them are being converted for recreational summer use. This particular boathouse was decided to be torn down, however its simple formal qualities, placement and honest use of materials informed the design for the new building.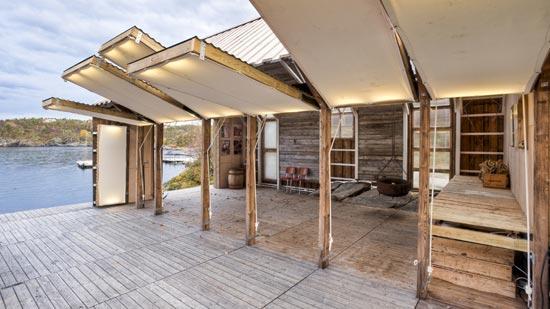 photo by Pasi Aalto
In approaching the design for the new building, the architects took into account the architectural, material and cultural qualities of the old structure as well as its disclosed and somewhat unavailable location. They used material from the old structure to clad interior surfaces of the new boathouse and collected old windows from a farm nearby that they incorporated into their construction. The new boathouse features an adaptable design approach coupled with rational choices in regards to material use and poses a good example of consistency in designing and building process.
Source: mydesignstories