Spider projection by Friedrich van Schoor, 2012.
Augmented Reality refers to the enhancement and manipulation of one's perception of a real-world environment by the use of technology. Video mapping, is such a technology using projection on three-dimensional objects to add extra dimensions, optical illusions, and notions of movement onto previously static objects. German freelance designer Frederick van Schoor, has used video mapping on a glass-front building, to create an overwhelming virtual environment of two giant spiders moving about the top-floor.
Conceptual drawing of Spider projection.
The artist built a 5 inch long and wide model of the projection space out of wood and transulent plexiglass were he originally placed the spiders to capture the desired movement and atmosphere. The installation involved five projectors mapping out the building with the edited footage.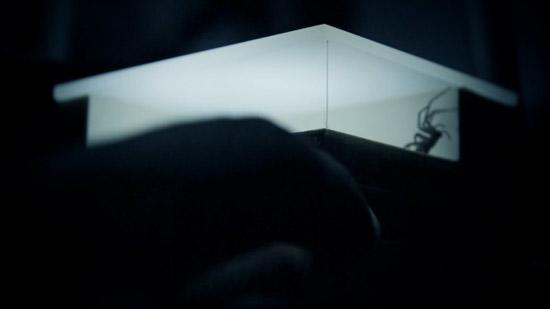 Model used for Spider projection mapping.
A lighting test of van Schoor's installation.
via we like that