George Nelson, Edward Wormley, Eero Saarinen, Harry Bertoia, Charles Eames and Jens Risom in Playboy Magazine, July 1961, image via douglasspics.
Depicted among the crème de la crème of the 1960s design scene, third from the left, Charles Eames, when asked why he designed chairs famously quoted "it's a piece of architecture you can hold in your hand". It is not such a coincidence that this photo, the cover picture of "Designs for Living" an article homage to the 1960's American design boom published in Playboy issue of July 1961, depicts six of the most prominent designers of the era seated or standing around their iconic designs for chairs. And it is not a coincidence that three of them, George Nelson, Eero Saarinen and Charles Eames are architects. The chair, from the advent of modernism to the dissemination of International Style, has become the object to design, holding the power of materializing the basic elements of a concept related to space in a compact form.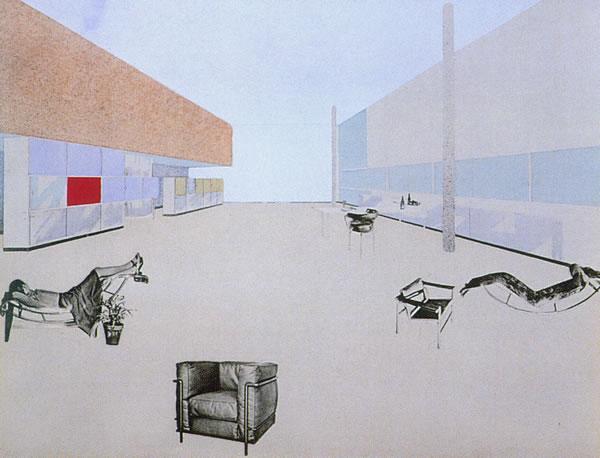 Le Corbusier, Charlotte Perriand and Pierre Jeanneret, Photo-collage on the Equipment intérieur d'une habitation installation, L'Architecture vivante Spring 1930 © FLC / VG Bild-Kunst, Bonn, 2007.
Whether it was a piece of furniture designed especially for a building, like the iconic Barcelona Chair by Mies van der Rohe, or a piece intended for mass production, as was the case for the chairs designed in Bauhaus by Marcel Breuer, or in the post WWII era by Eames and Saarinen, it is the chair of all objects contained in a building that holds the reins of being the signature piece in a designers work. More than that, looking at the architects designs for chairs from the Wassily Chair of Marcel Breuer in 1926 to the Easy Edges corrugated cardboard chairs of Frank Gehry in 1969-73, one reads side by side the adventures of architectural thought in form and concept, from the birth of modernism, to its massive dissemination to its deconstruction and rejection.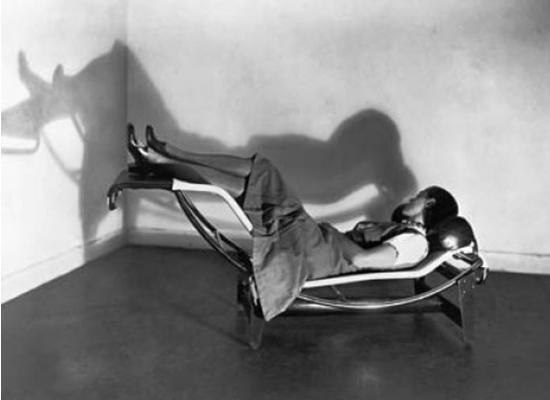 Charlotte Pierrand resting on LC4 Chaise Lounge, co-designed with Le Corbusier and Pierre Jeanneret, 1929.
"Metal plays the same part in furniture as cement has done in architecture." Charlotte Perriand quoted during her time at the Le Corbusier atelier. Like most of his contemporaries during the mid to late 1920s, Le Corbusier and his associates Pierre Jeanneret and Charlotte Perriand, designed furniture for the interiors of many of the atelier's residential architectural commissions. At the same time, like Mies van der Rohe and Marcel Breuer in Germany, Le Corbusier's atelier was also experimenting with engendering new modern aesthetics with tubular steel.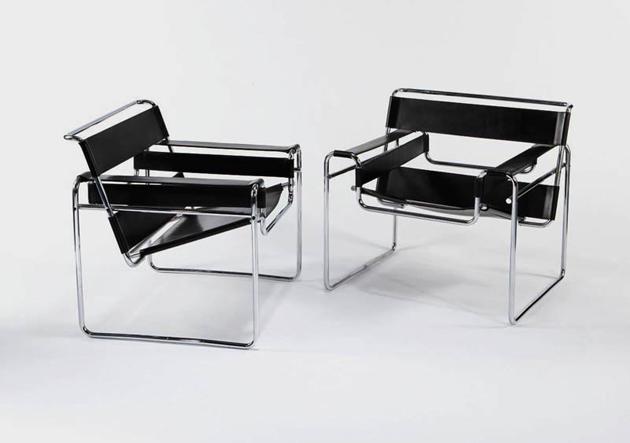 Model B3 "Wassily" Chair, designed by Marcel Breuer, 1925-26.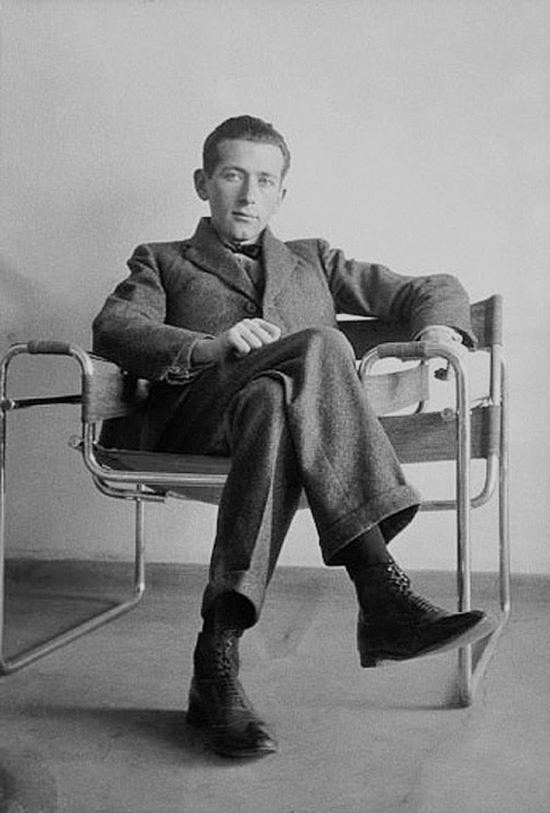 Marcel Breuer sitting on Model B3 "Wassily" chair, 1925-26.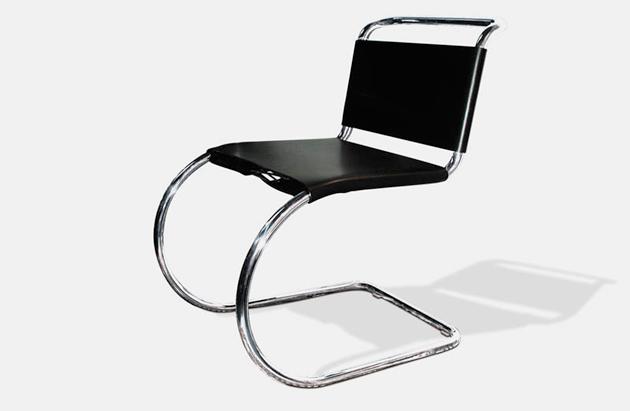 Freiswinger MR 10 Chair, designed by Mies Van der Rohe, 1932.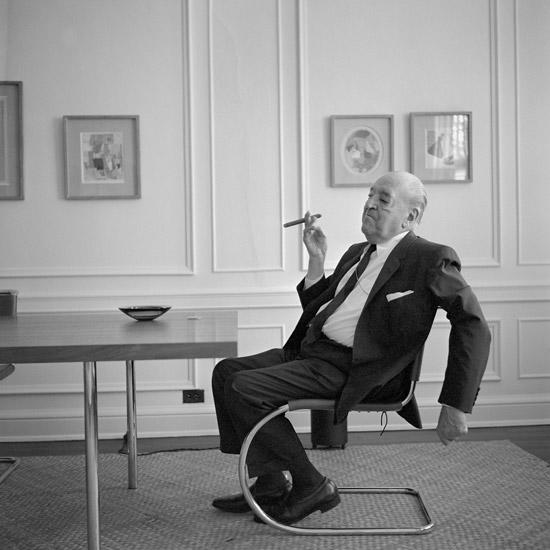 Mies van der Rohe sitting on a Frieswinger MR 10 Chair, designed in 1932.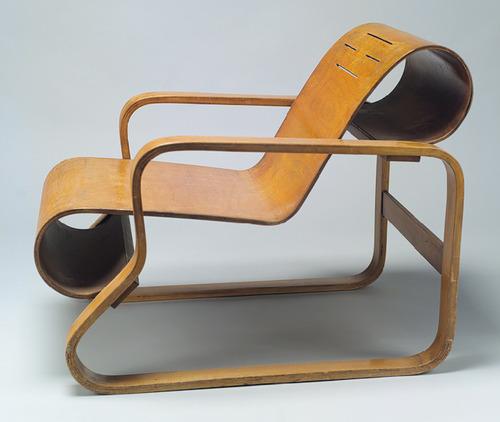 Model No 41, Paimio Lounge Chair, designed by Alvar Aalto 1931.
Building on the Freiswinger MR 10 Chair typology, designed by Mies van der Rohe as an evolution of designs by Marcel Breuer and Mart Stam, Finn Architect Alvar Aalto designed Model No 31 Armchair using cantilevered birch wood. Aalto felt the technology of bending pipes and metal furniture was a good concept from the economic and constructive point of view, however he insisted on the use of wood as more tactile and humane material. Further developing his technique and research, he designed in 1931 the Model No 41. Lounge Chair, intended for the Paimio Sanatorium after which it was named.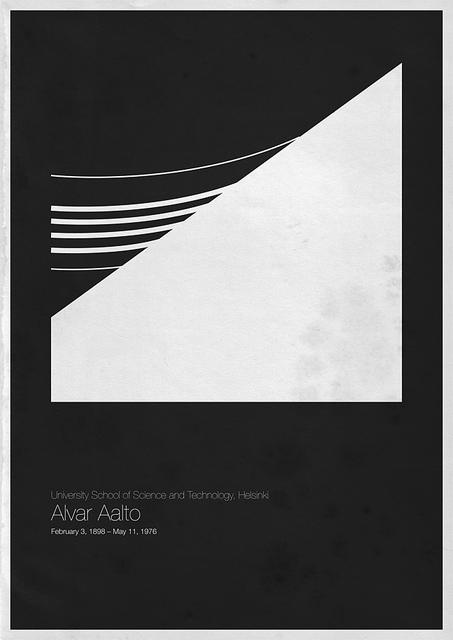 Alvar Aalto, seating on birch bentwood Armchair, designed in 1932-33.
Further exploring the possibilities of wood to produce organic forms, Charles Eames and Eero Saarinen, submitted the design for "Organic Chair" into Moma's New York "Organic Furniture Competition" in 1940, a contest exploring the natural evolution of furniture in response to the rapidly changing world. The first prize winning design was never put into production, it became however the starting point for both architects to pursue their innovative organic form producing research under the scope of designing furniture for mass production. Using molded plywood technology husband and wife team Charles and Ray Eames, produced in 1946 the LCW and LCM Chair series, but it was when they started experimenting with fiberglass that they produced a unified self supporting seating structure with products such as the Model RAR Rocking Armchair.
Eero Saarinen on the other hand produced the design for Womb Chair and ottoman, employing the use of foam over a molded, reinforced fiberglass shell. Later on in 1954, he launched the Pedestal Group series, featuring a harmonic unified organic form of molded fiberglass both in the seating and single leg of the chair.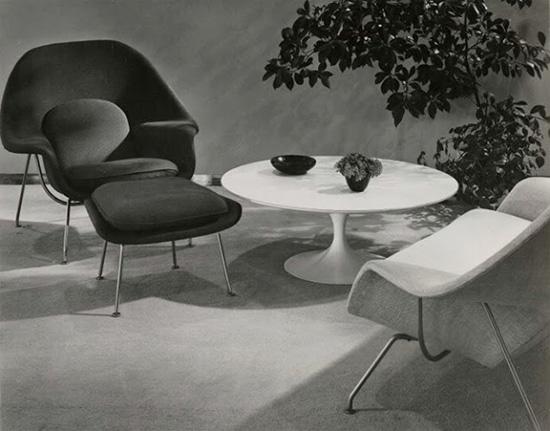 Womp Chair and ottomans, designed by Eero Saarinen in 1948.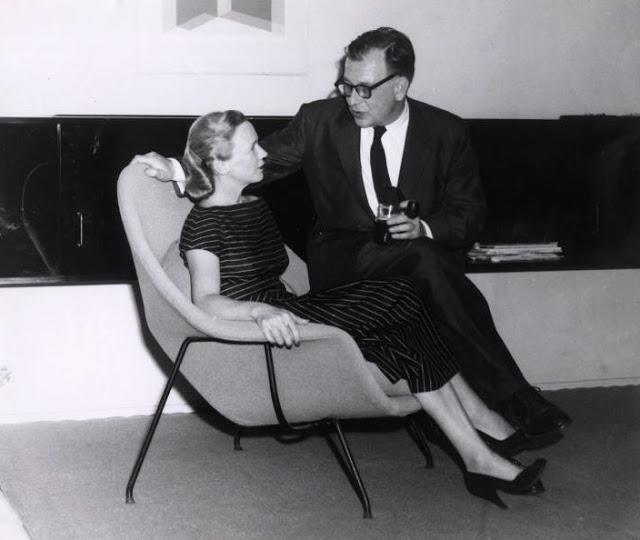 Eero Saarinen and his wife Aline, lounging on Womp Chair, designed in 1948.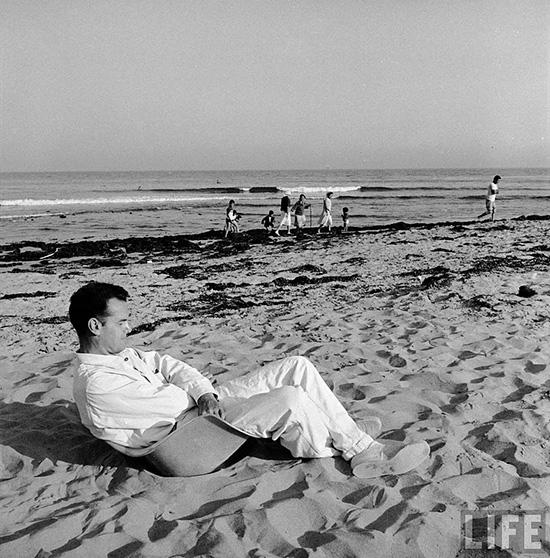 Charles Eames resting on the beach on a Shell chair seating.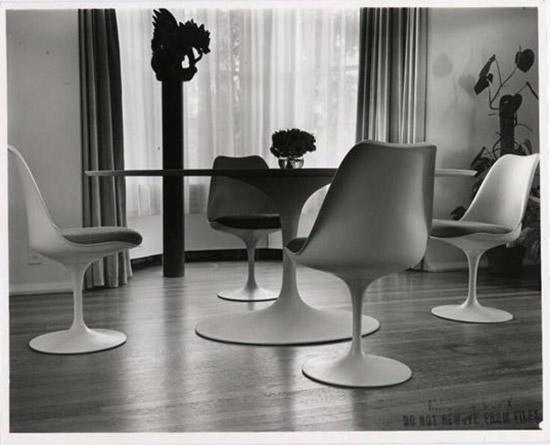 Pedestal Dinette Group, designed by Eero Saarinen in 1956.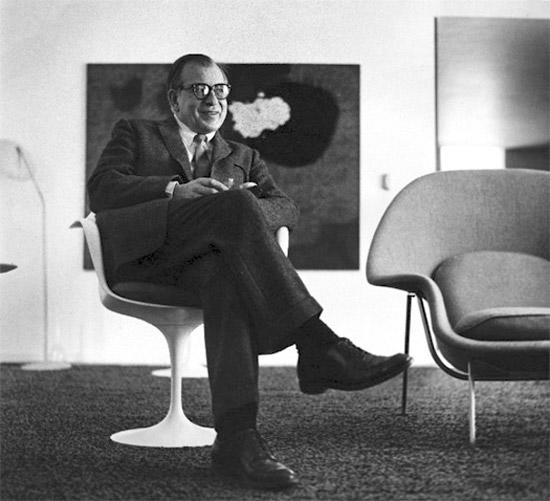 Eero Saarinen sitting on Tulip Chair, part of Pedestal Group designed in 1956, next to Womp Chair designed in 1948.
"Every truly original idea – every innovation in design, every new application of materials, every technical invention for furniture – seems to find its most important expression in a chair" – George Nelson stated. Innovation in design and form for architects however, did not rest only in the quest for testing and exploring the qualities of noble and innovative materials. Between 1969 to 1973 Frank Gehry produced Easy Edges, a series of furniture out of corrugated cardboard, the material used for packaging the great modernist chairs since so far. Even though the series never reached big production volumes due to sales prices exceeding rates Gehry had expected, it did in a way mark the end of the great modernist chair era into a new one of conceptualizing and materializing form and space.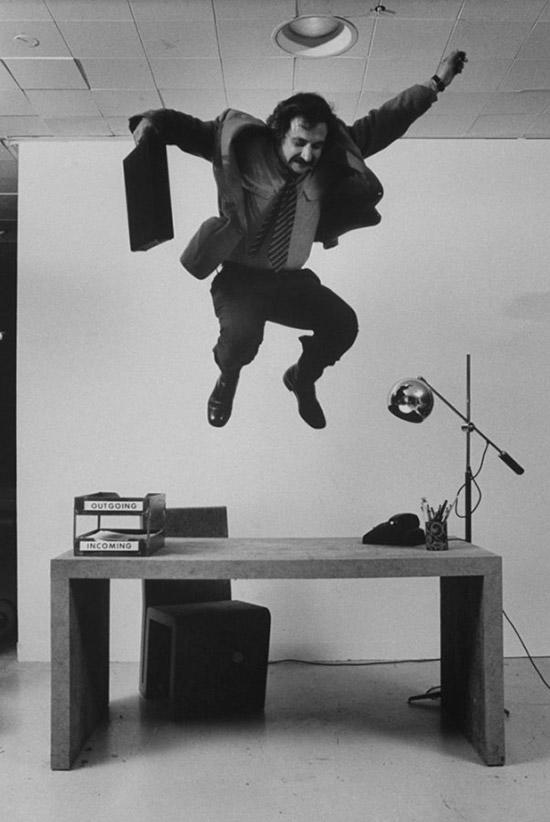 Frank Gehry jumping on a desk – Chair and desk part of his Easy Edges cardboard line furniture designed between 1969-1973.