CasinoRUIN by Andreas Angelidakis, Videostill.
Made in Athens, the Greek participation for the 13th Venice Biennale, curated by Panos Dragonas and Anna Skiada, focuses on the city's current condition amidst an economic and civic crisis. While addressing major problems concerning living conditions, public space and architectural design, it attempts to map a group of creative forces forming a 'common ground' upon which a better future for the city and its architecture can emerge. The exhibition forms out of an accumulation of different projects, realized, proposed or imaginary scenarios by architects and creative groups that investigate, explore and interpret the evolution of the Athenian apartment building or polykatoikia and the fragmentation of and disputes over Athenian public space. Among the exhibited works more than a few are stories told by architects, in an attempt to enter reality from a different point, to create narratives that approach given problems from a different perspective, to evoke imagination and personal readings of a given situation.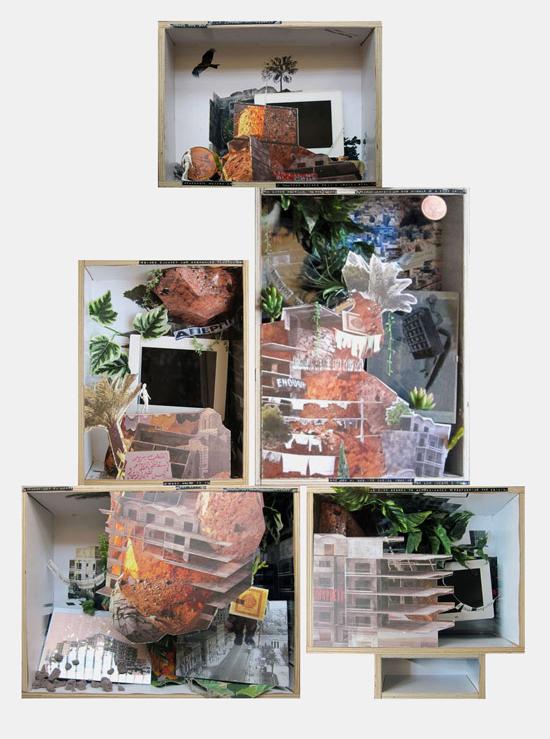 Andreas Angelidakis, CasinoTROLL, Installation collage.
Andreas Angelidakis tells the story of modernism failure in Athens, as it is reflected on the decadent condition of two paradigmatic buildings of the era – Chara, a quality housing block on Patision st build in 1960 by architects Spanos and Papailiopoulos and luxury resort and casino Mont Parnes  build on Mountain Parnitha in late 50's. In casinoTROLL, Angelidakis uses video (TROLL or The Voluntary Ruin and casinoRUIN) placed inside a plywood crates collage installation to narrate a fictitious turn, a sort of a happy-ending for the buildings, where despite economic and profit-driven mischiefs, they make it to fulfill their modernist programmatic aspirations.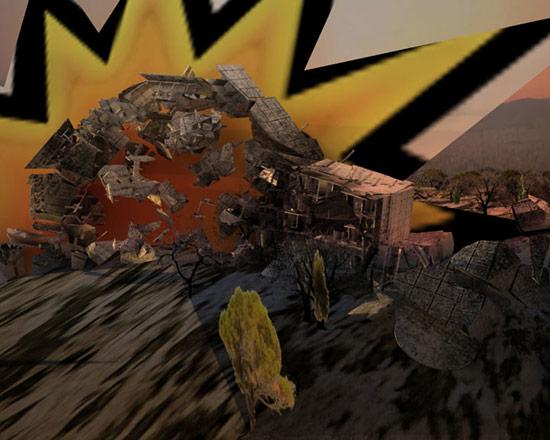 CasinoRUIN by Andreas Angelidakis, Videostill.
Chara, becomes an inhabitable mountain. Empowered by the plants growing inside of her, she is animated and decides to leave the city and set out for nature. Mont Parnes explodes in pieces that scatter on Mountain Parnitha slopes. Time passes and the building's fragments merge with the mountain's nature to form habitable shelters.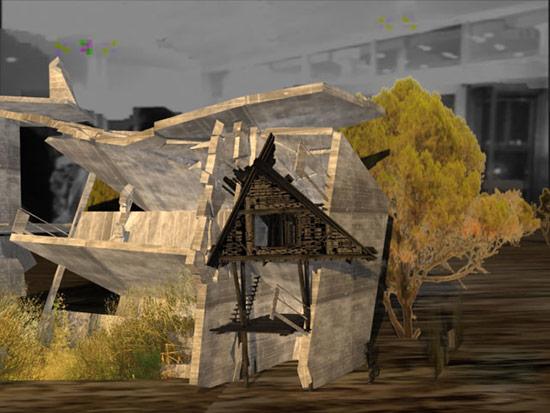 CasinoRUIN by Andreas Angelidakis, Videostill.
Point Supreme Architects, tell stories of unleashing the city's potential through creatively exploiting and reinterpreting political ideals, cliches and preconceptions bound with it.
Point Supreme Architects, Projects for Athens 2008-2012.
In Projects for Athens, they tell the story of campaigning to claim Athens an island and capitalize on the city's unexploited coastal length (Athens as an Island); documenting contemporary life around the Acropolis as Hokusai did with mountain Fuji (100 Views of Acropolis); turning a narrow square into densely planted secret garden (Theater Square); demolishing a kilometer wide strip between Acropolis and the sea and to replacing it by nature (Athens Heaven); adding public space on the roof tops of a central city block in the form of a ferry boat (Athens Ferry); returning the missing element of water in the city by turning a square into a shallow pool (Square Pool); capitalizing on the programmatic identity of the existing main route from the center to the sea (Sigrou Avenue); rebranding Athens by programmatically identifying every hill in Athens (Athens by Hills). Each proposal is presented through a device – an image standing on a podium, accompanied by an element that comments on it.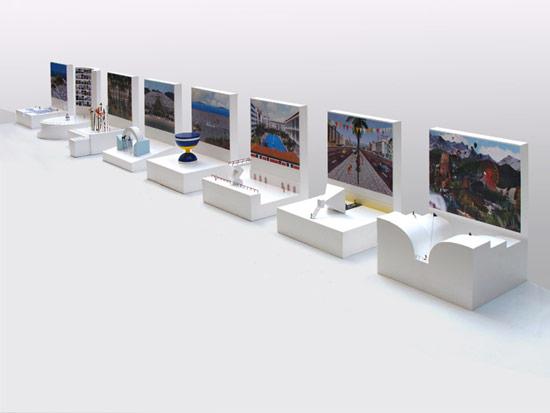 Point Supreme Architects, Projects for Athens 2008-2012 installation podiums.
draftworks* Architects tell the story of the eccentricities and contradictions of the Athenian city fabric as it forms out of the interaction with its inhabitants.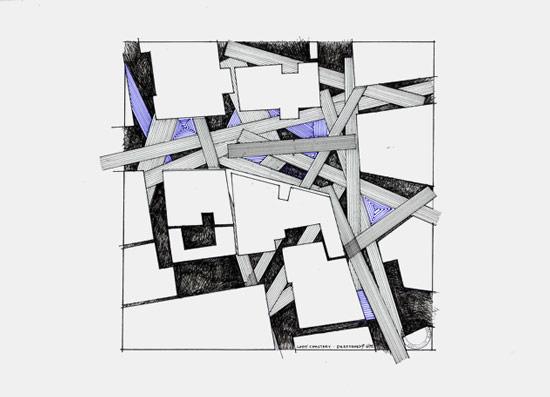 draftworks* Architects, God's Cemetery, Drawing.
In Northwest Passage, they use models, drawings and text, to narrate a person's journey in Athens where he meets imaginary tribes. Each tribe is an imaginary transformation of the eccentric uses of the Athenian urban enviroment: the block, the crossroads, the space between blocks, the unused patios within the blocks. Pandionis worship a different god every week and use to burry him in their 'Gods Cemetery' by the end of the week. Erechteis are against finishing things and they celebrate their peculiarity in their 'Unfinished Cathedral'. Hippothontis believe that they originate from the night sky and they want to have the stars and constellations glowing in their back yard in 'Clair de Lune'. Leontis are sure that their dreams is a night-reality that is as real as the day-reality. Aiantis have built a wall around their block beyond which, they believe, is the realm of the gods, the animals and the dead, in 'Pomerium'.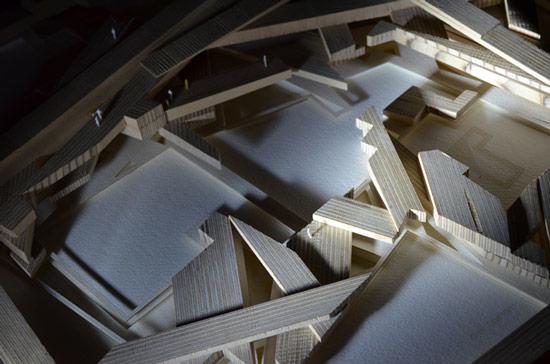 draftworks* Architects, God's Cemetery, Model.
As draftworks* state: "With the use of urban types of Athens and their imaginary transformation through narrative, we note that the city is made of a prime material, which can be transformed with the use of imagination. This may not be the architect's major task, it is however as much important."
sources: Andreas Angelidakis, draftworks* Architects, Point Supreme Architects, Made in Athens.