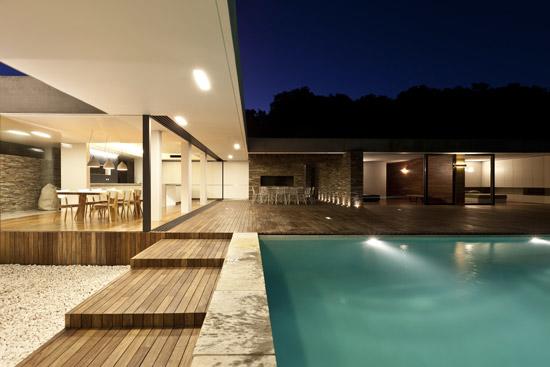 Since we are still getting glimpses of summer in the onsets of winter, we thought we would bring to you Plane house by Athens based architectural practice k-studio, a residence beautifully engulfed in the green scenery of skiathos island. The horizontal levels of Plane house, that organize areas for sunbathing, sleeping or eating allow at the same time for a stunning 270 view of the scenery and vast shade areas. Enclosures are created with movable panels and glazed screens, so that the volume of the building is dissolved within the landscape. Approaching Plane House form the coastal road, the concrete planes diverge from floating elements to solid volume, guiding the visitor to the breathtaking view that opens up in the core of the house. Read after the break for a detailed description by the architects and a beautiful photographic journey to the building.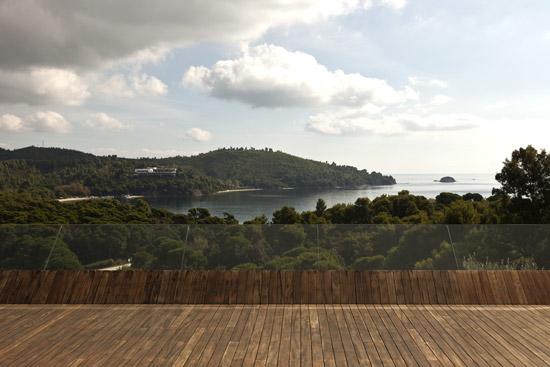 Description by k-studio:
Summer in the Greek islands is all about being outside. The aim of the Plane House is to merge internal and external space, maximising the benefits of both and minimising the impact on the surrounding landscape.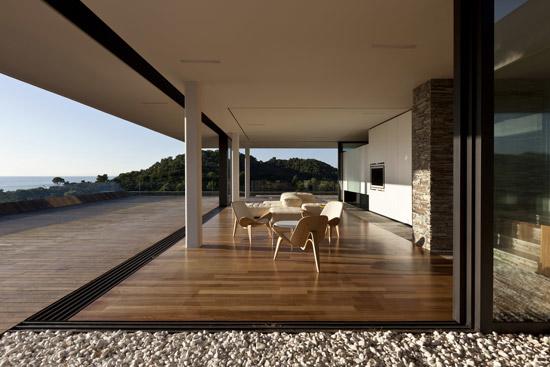 To avoid block volumes that split and dominate space, horizontal planes are inserted into the slope, immediately providing levels for sunbathing, sleeping and eating, as well as vast, open area of shade. They cool and shade the space beneath whilst allowing the flow of sunlight and maintaining the stunning 270 degree view over the coastline. Space between the planes is defined by various flexible panels and glazed screens. Designated cooking, eating and relaxation zones are offset from each other to provide cosiness without sacrificing openness.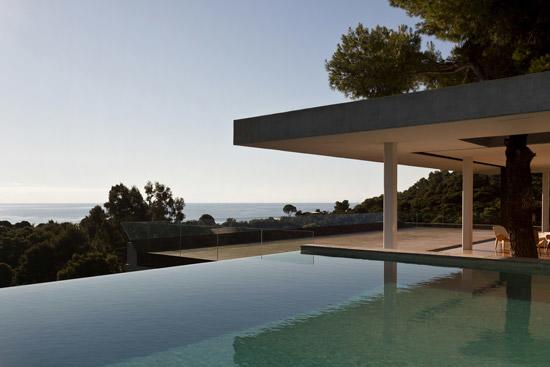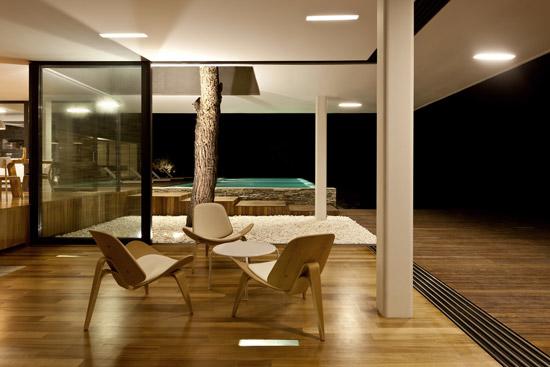 The pool is strategically placed to enjoy the view but also to create a cooling breeze over the terrace and into the house as the north wind flows uphill and over its surface. Photovoltaic panels power the pool mechanics and grey-water is recycled and used for irrigation, toilet flushing and fire extinguishing. The landscape is respected and continues over the green roof plane, creeps up along the site boundaries and penetrates vertically through the roof as existing trees stand in the space, undisturbed.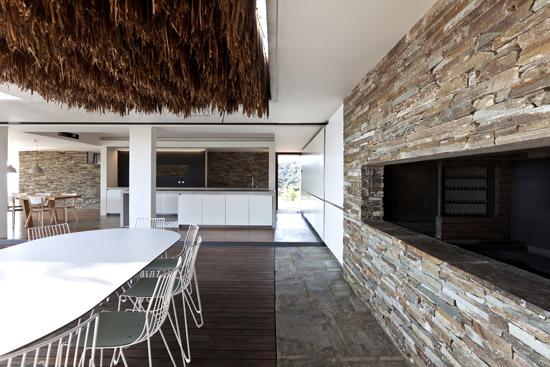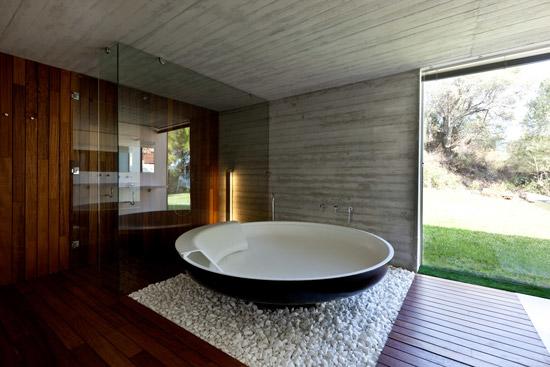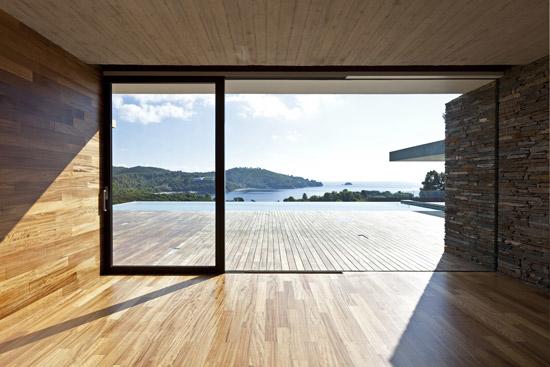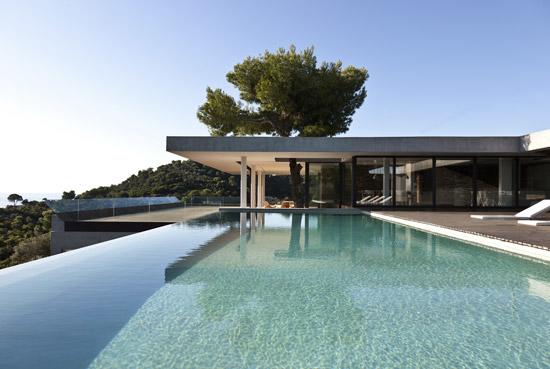 The powerful identity of the concrete planes creates a strong narrative on approaching the house from the coastal road that winds below. From a distance the planes are distinctively separated but as you draw nearer and approach the house from the side, the perspective alters closing the gap between them. On arrival and on entering the space they part once more, opening to reveal the breathtaking view and let the fresh air flow through.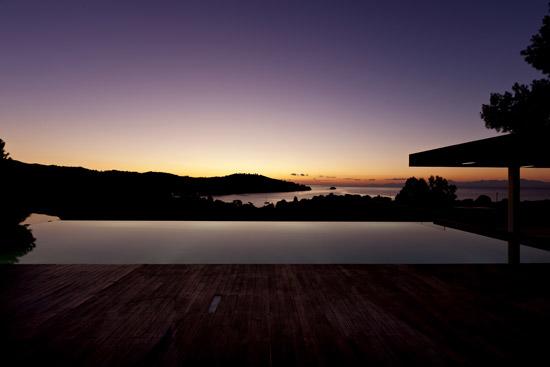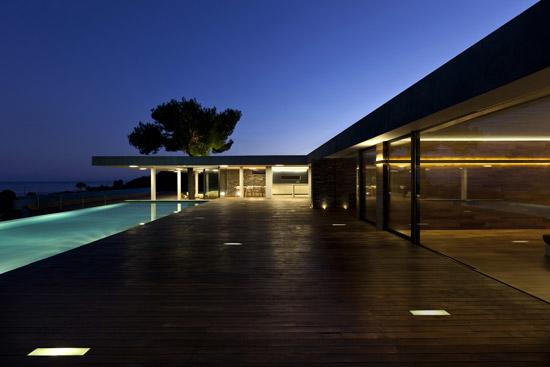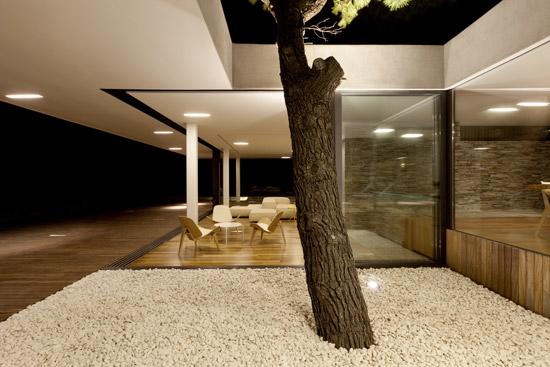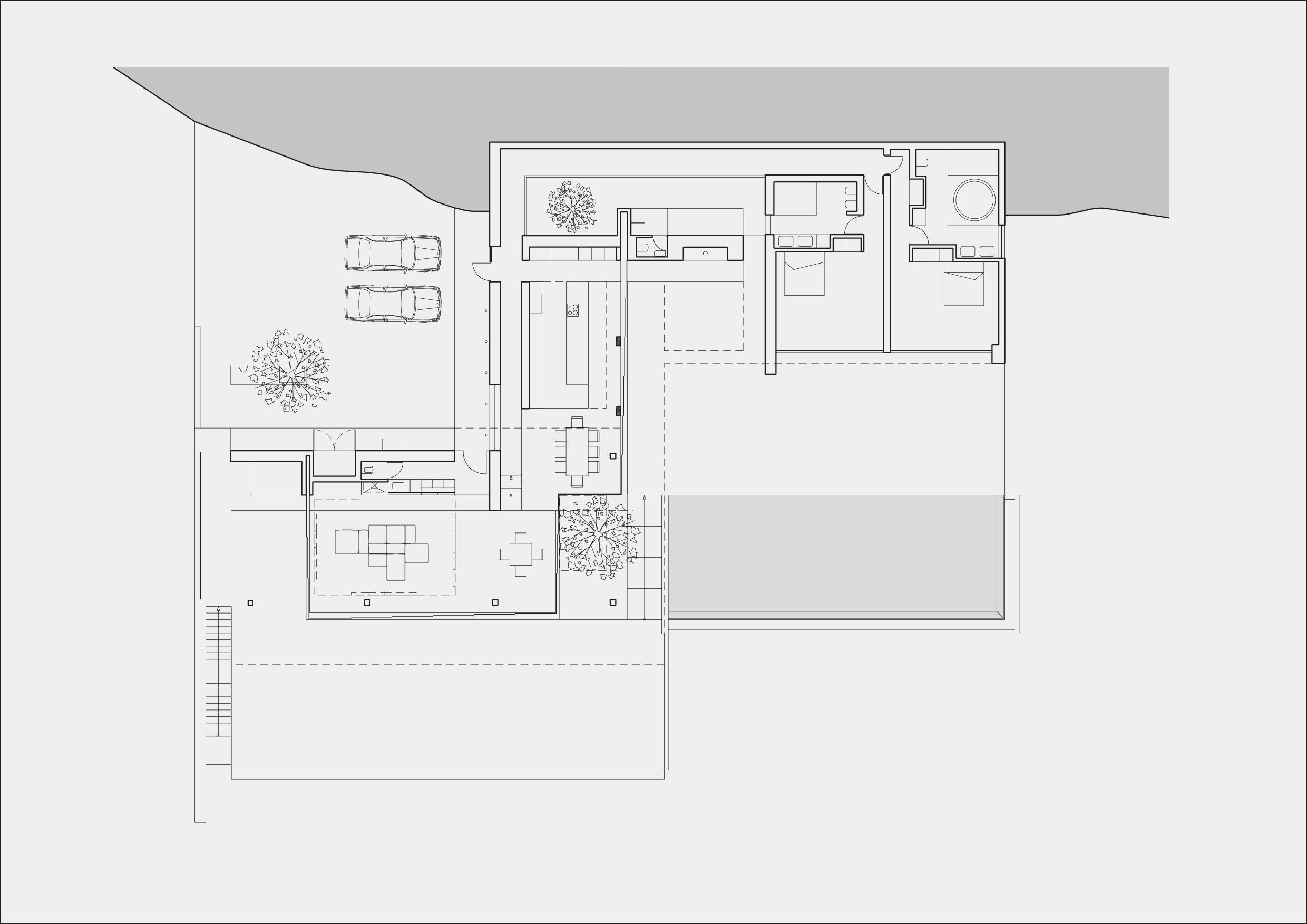 Plane House, Level 0 Plan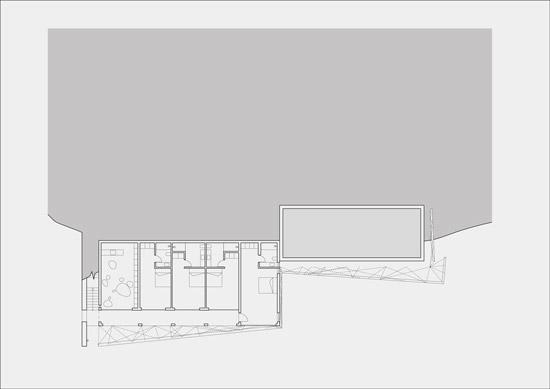 Plane House, Level 1 Plan
Project Info:
Name: Plane House
Location: Skiathos Island, Sporades, Greece
Designed By: k-studio
Photographer: Yiorgos Kordakis
Status: Completed 2011