Image Courtesy: BIG Group
The Kimball Art Center Transformation Project Design Competition, has found the design by architect Bjarke Ingels (BIG) to be its winning proposal. Kimball Art Center in Park City Utah, started in 1976 and is annually hosting the Sundance Film Festival. A non-profit community center for the visual arts, Kimball Art Center invites people to experience art through education, exhibitions and events.
In approaching the design for the new estabilishment that aspires to allow the organization to increase their educational outreach and enhance the quality and scale of the exhibitions, the architect drew inspiration from the urban development of Park city, the Kimball site and the city's mining heritage. The interpretation of these elements within the formal qualitites of the proposal for the new building made it stand out among other shortlisted projects.

Image Courtesy: BIG Group
BIG was particularly moved when a long-time resident spoke nostalgically about the former Coalition Building, an iconic landmark of Park City located south of Kimball site and brought down by fire in 1982. The building's proportions (an 80 feet estabilishment that towered the city), as well as its timber structure informed the idea for the proposed design. The design team found that timber was the primary structure material adopted by early mine settlers not only for constructing retaining walls inside the mines but also outside the mines for residential construction. They felt the new building should be an evolution of this construction technique, intergrated within the urban context of Park City.

Image Courtesy: BIG Group
Kimball site sits on the doorstep of the city, surrounded by Park Ave, what used to be the city's main artery, Main St, the most socially active street and Heber Ave, a diagonal street that has become the gateway to the city.The existing building faces Park ave, while the addition faces Main St and Heber Ave.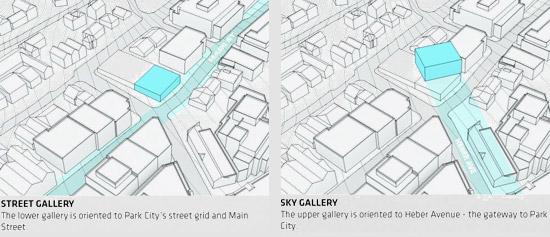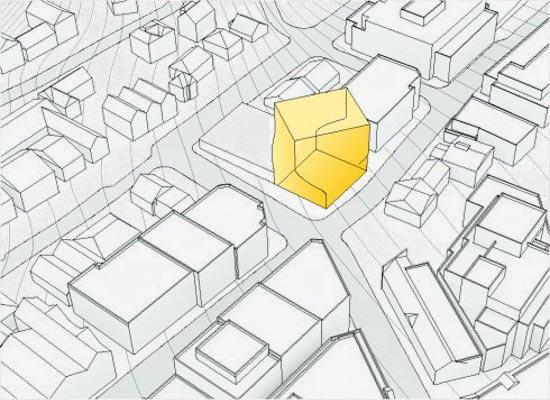 Image Courtesy: BIG Group
Proposing two new galleries, each one facing one of the two main arteries, the final design for the proposed addition, accumulated in a skewed self supporting log cabin the size of the old Coalition Building, that twists as it rises to adrress both passageways.
Collaborators: BIG, Architectural Nexus, Dunn Associates, VBFA, Envision Engineering, Big D
Source: Kimball Art Center