Still from Kommigraphics' presentation
Under a new name and with a sense of rebirth, last weekend Design Athens took place also in a different venue, Benaki Museum in Peiraios street. Roughly described, a greek conference about graphic design, where most of the recent known greek design names have presented their work throughout its ten-year span. While heavily carrying the Design Panorama's identity, this year there was a little twist, in an effort to bring design discussion further. I am referring to the addition of debates, something that happens first time in such context in the greek design scene and on the inclusion of more names from abroad.
Most prominent was the educational tone which appeared in a number of presentations. As Yannis Karlopoulos pinpointed on the debate on oil packaging "Greek design is an infant" and therefore he needs to be educated. That explains why the majority of designers felt the urge to use their presentations in order to educate in matters of history, design process, design thinking, business and ethics. Terms as research, brief, contract, surplus value, seemed to have puzzled some speakers, when Kommigraphics managed to compose clear sentences out of them. The thorough survival guide they presented, cleared the vagueness and set a good elementary framework for designers to play within. Highlight, the definition of briefing "the designers' role is to structure the client's thought in a certain way". On the same pattern but more sophisticated, was Christos Kourtoglou's presentation on book cover design in literature. Crystal clear, yet poetic, just like his work. He analysed the book cover's role to attract and set a mood, while keeping the story's mystery. In his powerful epilogue, he was hoping for a future where you would judge a book by its cover. Another favorite in the educational ones, was Konstantinos Papamihalopoulos history class mixed with case studies, structured around a statement, something that some others missed. A strong narrative analysing the relevance of technology in art and the artist's input.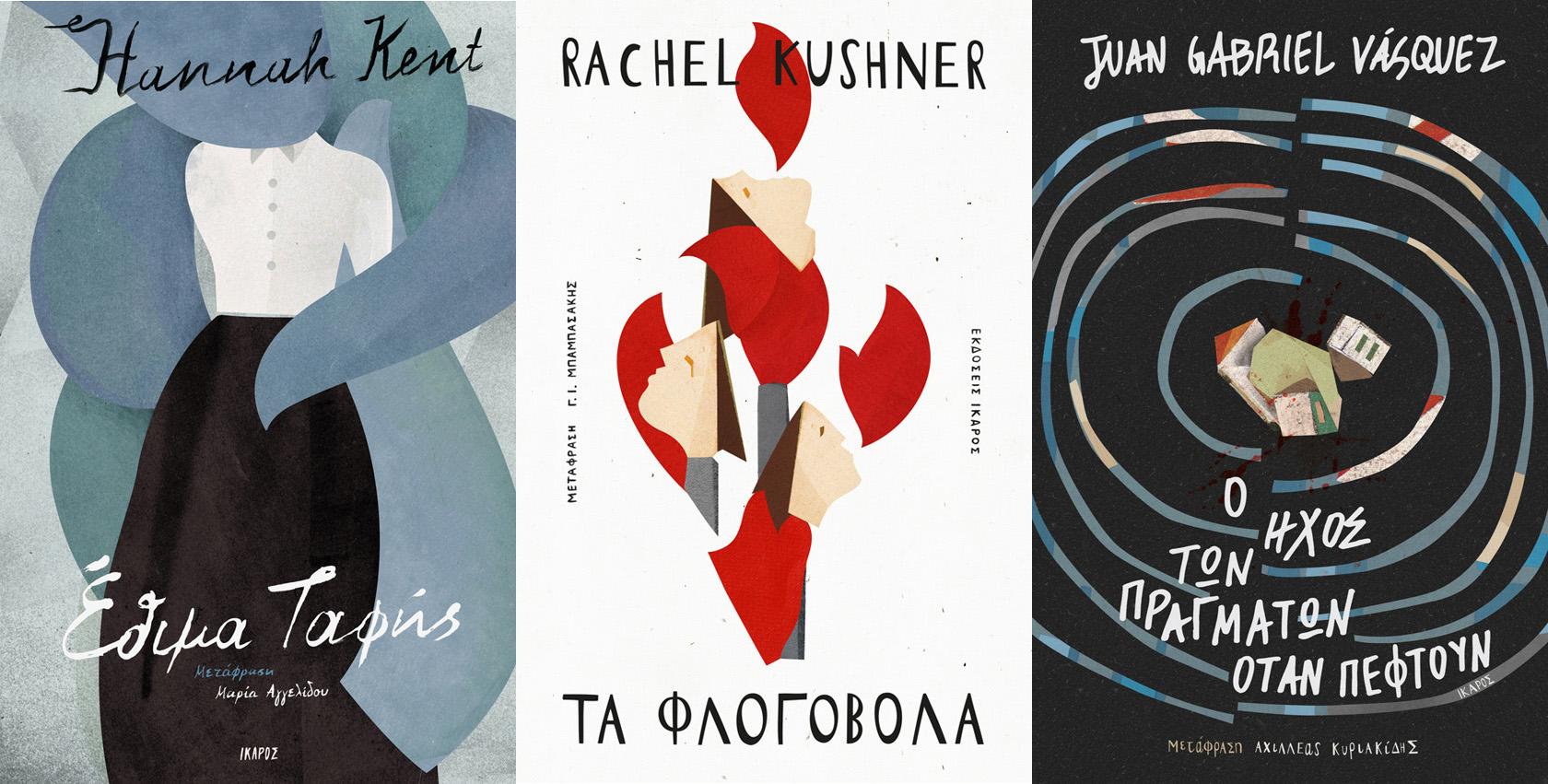 Covers for Ikaros Books by Christos Kourtoglou
But again, the evaluation depends on who is the audience. As Demetrios Fakinos stated on the go, the proportion was approximately 70% professionals, 20% students and 10% clients (although it felt upside down). Having this clue, we can see why some presentations totally bored the audience and put twitter on fire – not in a positive way. With Notorious Grey it was almost like going back to being freshmen and playing "guess who" with logos (in which I am afraid I wouldn't win any). Pecora Nera spend half of his time showing powerpoint aesthetic slides explaining not even the basics, at least on the other half he turned it into "okay" case studies. Fun detail, Dasc's Branding lovely recurring argument "well… for obvious reasons… this and that".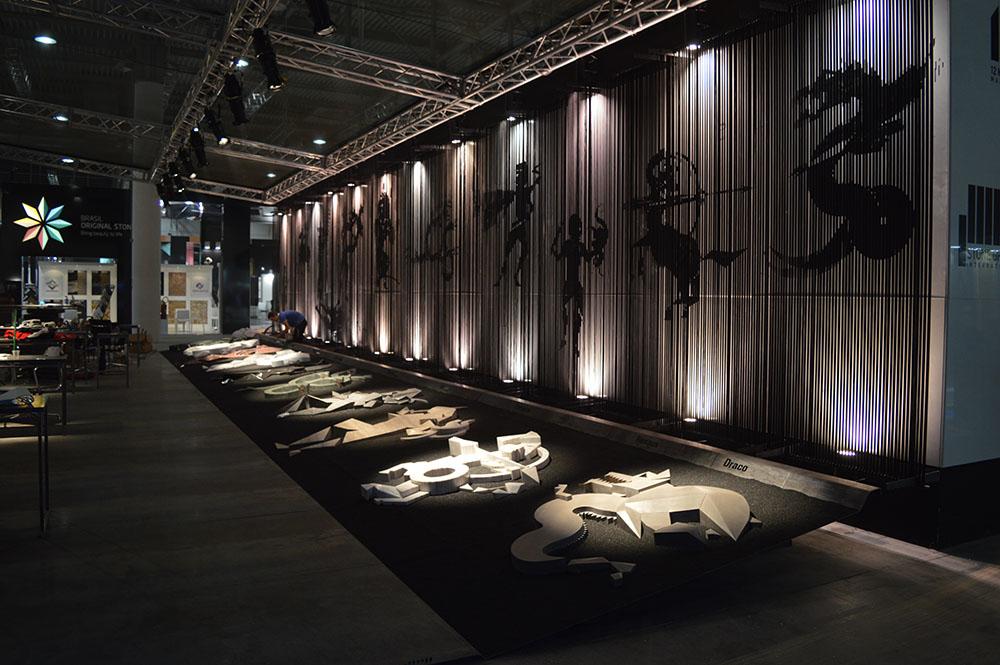 12 Mythic Marbles by Dolphins in collaboration with ARCHKT
Most of the latecomers missed the Dolphins mind-blowing presentation, who left the audience asking for more. They brought the moire technique in space using marble as a medium, but they also reversed it having the viewer's movement as a trigger to animation.
Except for the technical part they added too in the discussion for the role of the designer, by making a reference to a latest article about the importance on having creative directors within the marketing departments in strategic decision making. Five Eight and Athanco commented on another aspect of the designer's role in the age of start-ups and crowd-funding, that of the alternation of being also a manager, an accountant or even a lawyer. After a successful and well planned online campaign for the Xylo Eyewear, the client left them full of thoughts. Is the client a friend too? When is it time for a rebranding? Does he appreciate the surplus value the design brought to his product? Working for a start-up company is a risk, something that they knew from the beginning, but if they would do it again, they would do it under different terms. Kommigraphics covered that too: It's business (full stop).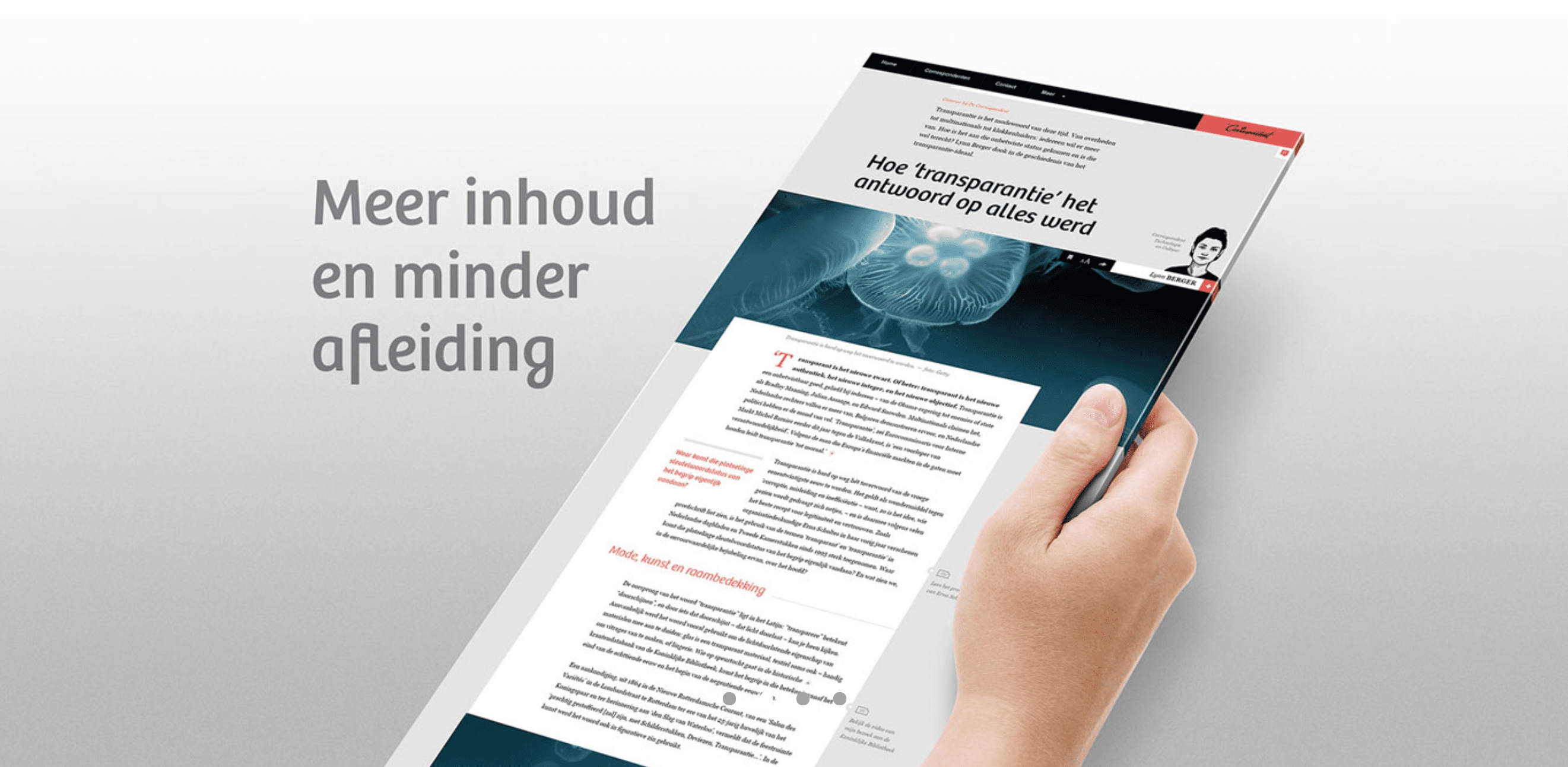 Decorrespondent.nl by Momkai
The foreign speakers – in a class by themselves – only because just like every year they are the only ones who choose to present upright and allow themselves some movement. This could be read as a metaphor too, but let's go over the gist again. Momkai from the Netherlands was trying to understand the conference's website (or in design terms: researching the context) and he got almost upset when google translate discovered the question: "How to use information as inspiration rather than a necessary evil?". Necessary evil? Really? His presentation totally answered this and reassured the greek audience that it is the designer who makes the design, and not the information. Great example the decorrespondent.nl where journalistic content is handled innovatively, having the design to serve the story. Decisions such as getting rid of inserted links to text and transform them into side notes in order not to distract the reader, or renaming classic buttons such as "react" to "contribute", change the way we experience reading.
So definitely yes, the designer has to get involved in content, an issue that came up also in other presentations and in both debates. Our job is to question the content and the medium. The whole Social Design discussion fortunately took this unexpected turn, and shacked this nonsense genre label, driving the audience to reflection. Design Academy in Eindhoven has a whole master under this title and its description starts like this "There is no such thing as social design! As a designer you are obliged working with the social aspect." As Evangelos Kassavetis argued "By posting social posters on Facebook we just increase our discourse's introversion" and then set the question: "Is social posters a social action or just a tool of self-promotion?"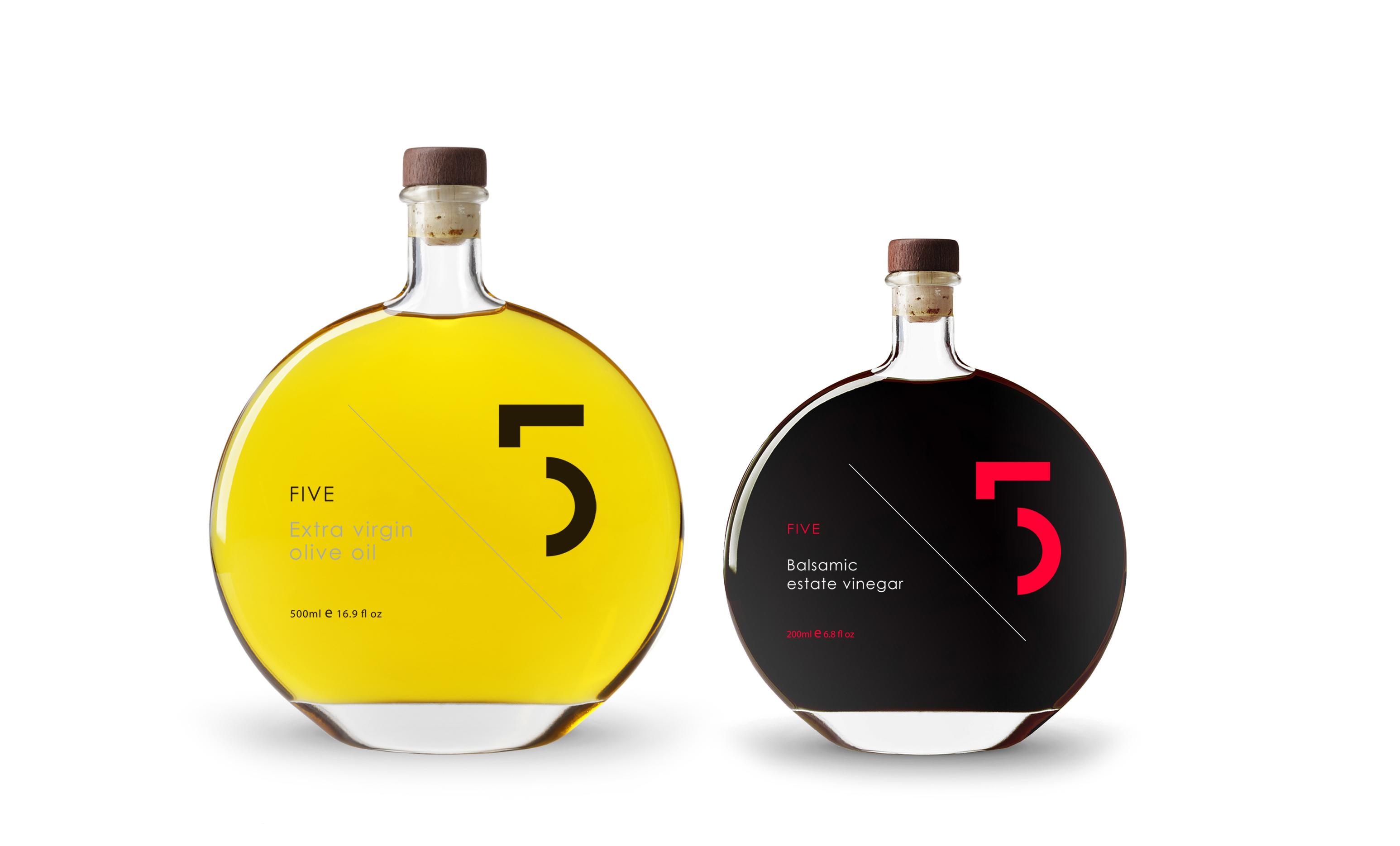 Five organic extra virgin olive oil by Designers United
By mentioning social media he called us to rethink their value and relevance. "People don't live in social media and we misguide our clients by pushing them there." As designers, we have the power over communication, to set the rules and the frameworks we believe in. "It is just a design object with surplus value, the market controls it." Kostas Kaparos from Mousegraphics replied to Yannis Karlopoulos when he almost shouted that we mislead our clients presenting them extra virgin olive oil in perfume packaging. "This almost insults the client's intelligence and aesthetics!" he added. A super confused by the discussion oil producer who was seeking for a little insight in the conference, she couldn't even utter her question for her forthcoming oil packaging. "Follow your heart!" was the humorous answer Karlopoulos gave and issues about the role of the brief were risen again. Design studio Metric kind of gave a solution in that, by photoshooting all competitors spectrum in one shot. The context is defined, so instantly do's and don't lines are visible, then the design or redesign may begin. Raffinerie on the other hand, prefer sometimes to seek inspiration in words like in Burg theater where they kept an almost dadaistic approach handling the identity only typographically. In Solothurner Filmtage case, a quote by Scorsese was the starting point for the impressive design of a complete logo system and applications. Something that showcased the power of thought and concept over trends and common practices which end up to quick and cheap solutions. Coming back to Kommigraphics who mentioned that too "Observe your own project in detail, not the others" and then inspiration comes.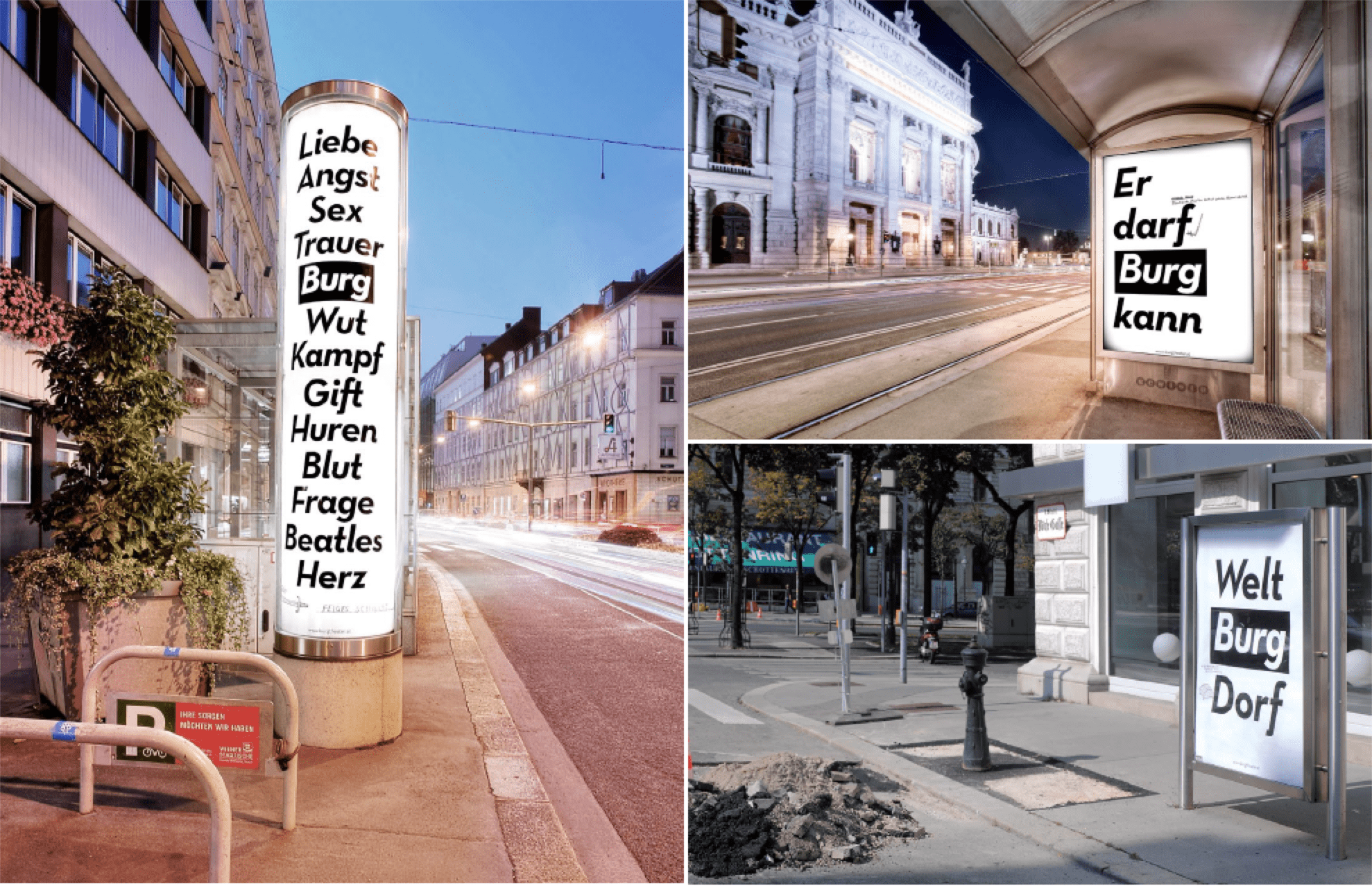 Burgtheater Wein by Raffinerie
Two days of long hours, resulted in an audience with mixed impressions. The good part was that at least some of the speakers left behind the self-referential presentations we were used to and moved on to something more interesting and constructive. The debates were a positive thought, but again still have a long leap to cover, since it felt more like monologues missing a moderator who could actually lead a discussion. The bad part though, and something that brings concerns, were the absences and the presences both of attendees and speakers, whatever that may mean. As Evangelos Kassavetis said "The worst part is that we don't discuss our problems, so we don't guarantee our discourse's rights". Well unfortunately there is no design discourse in Greece, but loving to recycle this quote is another thing.