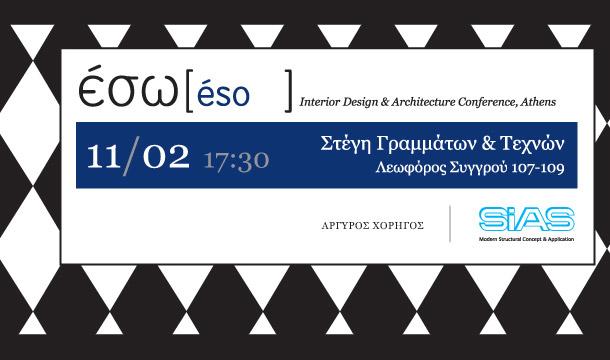 http://blog.sias.gr/images/stories/Top_News/ESW/banner-sias.jpg
SIAS is proud to be supporting έσω [eso] conference for Interior Design that is successfully reaching it's third year, being established as a pivoting event for the Greek architecture community.
Taking place in Athens at the Onassis Cultural Centre on February the 11th, έσω will gather some of the most interesting creative practices at the moment, in what is promised to be an engaging and insightful presentation of contemporary architectural production in Greece. Continue after the break for detailed program and booking information.
Residense in Sykamino, tensearchitecture
Tuesday, February 11th 2013, 17:30.
moderator: Kostas Voyatzis, yatzer.com.
18:00 Tilemachos Andrianopoulos
18:20 Minas Kosmidis
18:40 Buerger Katsota
19:00 Beetroot Design Group
19:20 Coffee break
19:40 Thomas Doxiadis
20:00 Lafarge
20:20 Vyonyx (Κωνσταντίνος Κουδούνης)
20:40 Michalis Anastasiadis
Invited speakers will make a 20 min presentation on their proposed subjects. Presentations will be held in Greek. For online tichet purchases click here. Booking information at +30 2109325617 and at [email protected]
The initiative is organized by +plus design magazine in collaboration with Archisearch.