Bill Viola, 'Going Forth By Day (détail)', 2002, extrait de 'First Light' (panneau 5) / Performers : Weba Garretson, John Hay / Collection particulière / Photo : Kira Perov
We are pretty sure this weekend most of you rushed to the nearest (or not) seaside, to delve into the first real summer's weekend delights. We did not dive into the aegean blues, we did plunge though in the immersive work of Bill Viola, presented at the Grand Palais, Paris, until 21rst of July.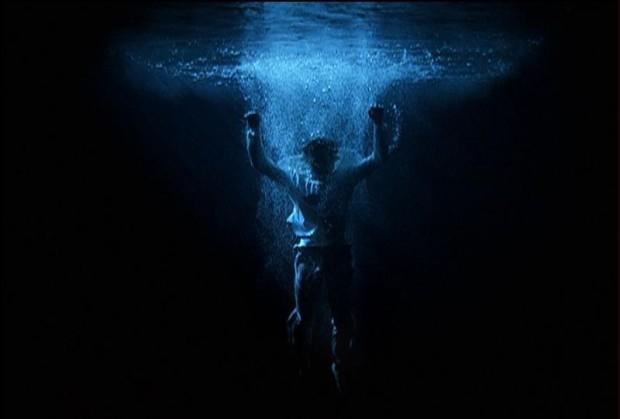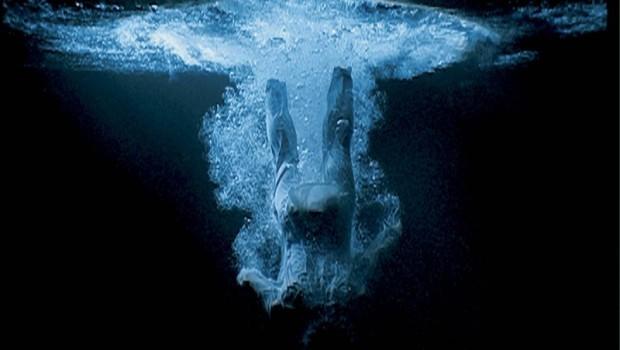 Bill Viola, 'Ascension', 2000 / Bill Viola Studio, Long Beach, Etats-Unis / Photo : Kira Perov
In the work of Bill Viola, the theme of bodies plunging into the water or immersing from it, is a recurring subject. In the Grand Palais, in what is one of the largest retrospectives of the exponent of video art, all four decades of the artist's career are represented, unfolding as an inner journey, divided in three phases around major metaphysical questions: Who am I? Where am I? Where am I going? The plunged or ascending bodies in his installations represent the fluidity of life creating at the same time references and a continuum with great works of art history. In Going Forth By Day (2002) par example, an ensemble of huge digital wall panels in the spirit of Giotto's frescoes in the Assisi basilica, Viola declares the unequalled summit of art installation and his ultimate reference.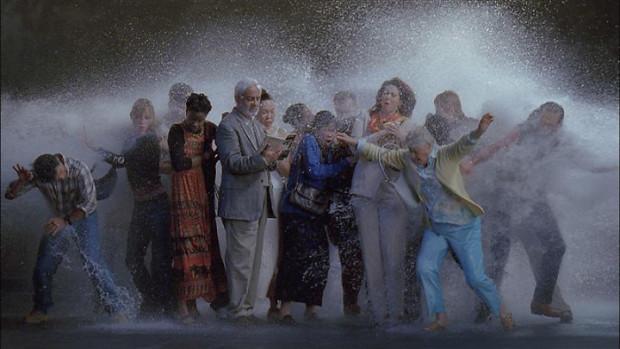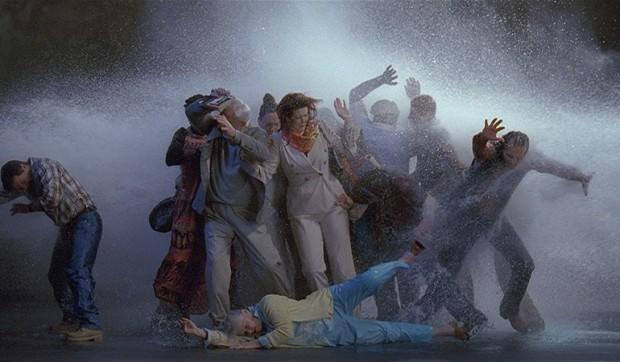 Bill Viola, Tempest (Study for the Raft), 2005; Color High-Definition video on flat panel display mounted on wall, 43 x 26 x 4 inches; 109 x 66 x 10.2 cm
Apart from the strong images and themes that give the artist's work a universal character, the spectator of the some twenty masterly works spread across the Grand Palais, immerses in a particularly intense experience. From The Reflecting Pool (1977-79) to The Dreamers (2013), the work of Viola unfolds bringing the spectator inside the work of art. The hours of video on screens slowly drag you inside this journey of metaphors about life, death, transcendence, rebirth, time and space, so as in the end you become a part of what is unfolding around you.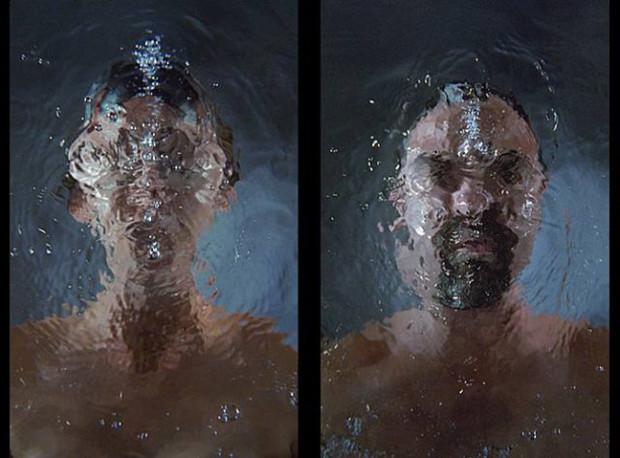 Bill Viola, Dissolution, 2005. Color video diptych on plasma displays mounted vertically on wall. Performers: Lisa Rhoden, Jeff Mills Photo: Kira Perov
All the genres in Bill Viola's oeuvre are there, in the Grand Palais exhibition, and all his great emblematic series, from "Buried Secrets" of the US Pavilion, Venice in 1995 (The Veiling), to "Angels for the Millennium" series (Ascension, 2000), to the "Passions" series (Catherine's Room, 2001) to "The Tristan Project" (Fire Woman and Tristan's Ascension, 2005), to "Transfigurations" (Three Women, 2008), to the "Mirage" series (The Encounter, 2012). This exhibition is one not to miss for someone to get to know in depth the work of the great artist, but also partake in a unique experience that reflects back on the perception of art and space in a unveiling manner.