Streemix is a civic app by Code for America, a tool which allows anyone to make simple road cross section diagrams to express their ideas clearly and easily. Started in a Hackathon with not such an appealing interface, it now has evolved to a neat and fun app calling for a lot of playfulness and customisation. The new features support even more detail, such as vechiles types and variety of pedestrians' avatars, street furniture, different road functions, trees and the ability to change the street's facades, like building type, height or not having a building at all.

It seems that people are using Streetmix to tackle actual projects within their communities, ending up in real streets. Streetmix diagrams though, appear in a wide range of contexts, varying from research essays to even civic petitions like the one for "Let's make Mitcham Lane safe for all". Variations present also in the nature of the designs. People may use it to create – except from practical proposals – utopian dreamscapes like "The super bikelane" or scathing critiques like the "Post energy crisis street". It was funny a user's response where he couldn't find the tools to add shop signage and graffiti on his proposal in order to create a connection to the commons. So given these easy tools, a need of expression emerges.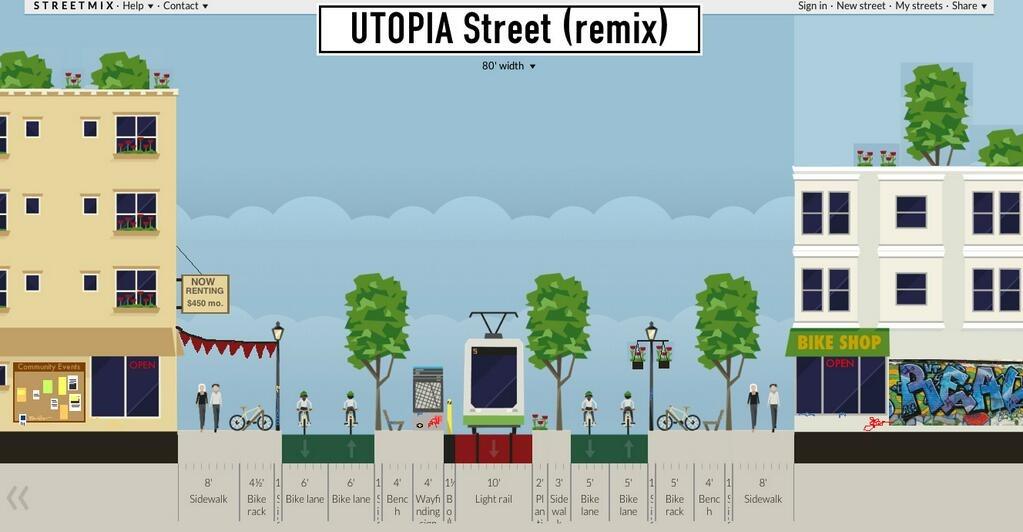 As most civic apps, the main goal is to connect neighbors with city planners and facilitate bureaucracy, strengthening a civic society. In Streetmix's case, dialogue between the street's users and maybe some planners is formed and the proposals may be adjusted to the real needs. For example, there was a heated debate on whether bike lanes should be placed the left or the right side of the street. And in the comments section you get all perspectives on the problem. These dynamics in small details may change the way design is perceived. Extreme example in the same issue, is a pattern that appeared on diagrams, preferring to add the bike lanes in the middle of very long arterial boulevards, the so called "two-way cycletracks". According to NACTO Urban Bikeway Design Guide there is no such thing, but apparently in Pennsylvania Avenue in Washington, D.C. they already do exist. Amateurs' creativity knows no bounds and that is great! But unfortunately it is not always the case of street as a public space to win the dictating street design by formula.