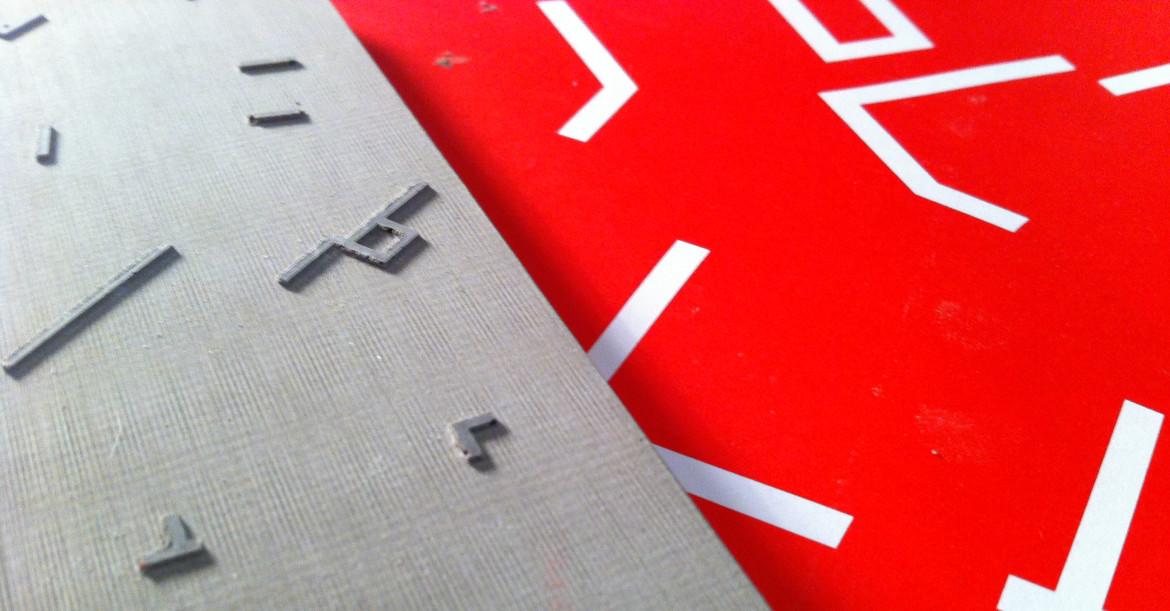 I met with Natassa Pappa of Street Design Words a few years back, when she was returning from Rotterdam holding an MDes in Graphic Design focusing on public space and I was cheating on my Architecture degree running a creative office focused mainly on web design with my friends and fellow students from the school. Over some coffee and snacks, Natassa presented us with her research on the arcades (or stoas in Greek) spread within the urban fabric of the historical center of Athens. As soon as she uttered "stoas" we were immediately intrigued, as these semi-public spaces, characteristic of most European cities and a left-over architectural type of 19th and ealrly to mid-century urban planning, held for us as well a fascination of sorts.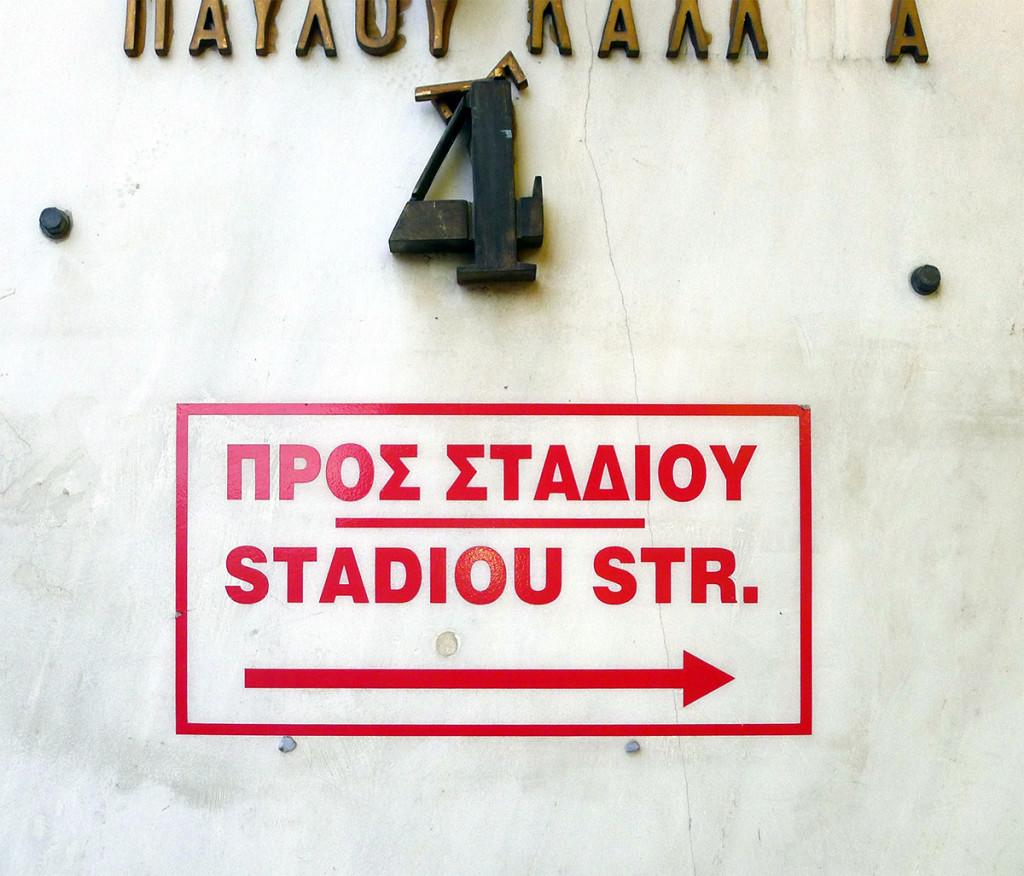 Signage marking the exit from Kalliga arcade in Athens. Photo: Natassa Pappa
The concealed network of passages the arcades form, offers a particular layer of experiencing the city through walking, as well as in the example of Athens, a layer of commercial and workshop clusters that seem to have emerged from another era. Through the eyes of the graphic designer, Natassa was unfolding her narrative based on the subtle signage one meets marking the entrance to or exit from the arcades, pointing out each of them features a particular direction arrow. She also pointed out these signs are becoming obsolete, so much in a way, as the spaces inside the arcades we felt like adding. Somehow it seemed, the hidden layer of passages stranded within the Athenian urban fabric, was unable to keep up with the pace of the city – so in many, if not in most cases, the arcades were filled with empty shops and abound in a state of abandonment.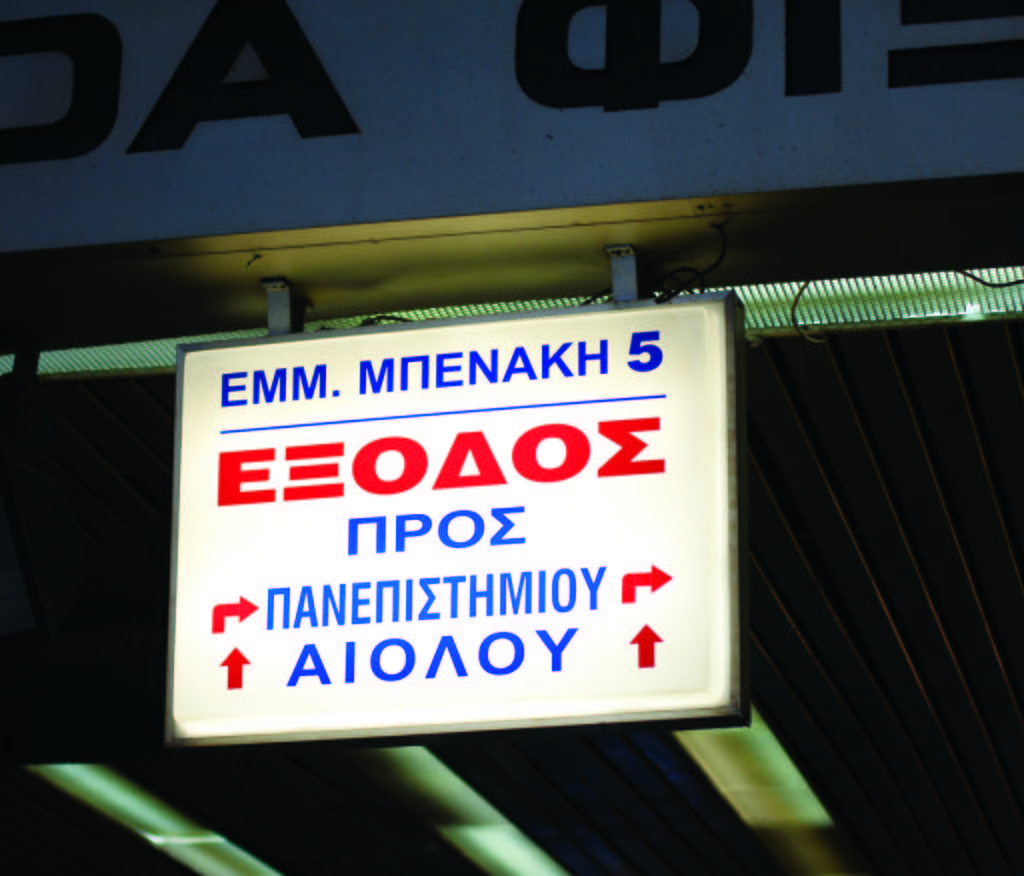 Signage marking the exits from Fix arcade in the center of Athens. Photo: Petros Nikoltsos
As much as the direction arrows underlining the "Into Stoa" lettering Natassa was talking about generated many ideas on experimenting with mapping and navigation within the city back then, our collaboration did not go any further at that point. Through other material and immaterial networks however,  we managed to keep track of each others endeavours. Years went by, Natassa kept on and off with her ongoing research and the center of Athens faced an unprecedented decay, the result of a sociopolitical scenery we are more than familiar with. In this scenery of urban decay,  I had moved to another mischievous relationship to Architecture, having formed design studio A Future Perfect with fellow student and friend Katerina Grigoropoulou. In a quest to find an outlet to our creativity and escape a bleak environment of professional status, we had began to produce The Concrete Cities series, a concrete coasters puzzle depicting the relief of city maps around the world. The first city we created was of course Athens, and concrete seemed to make a perfect match on the city itself.
[soliloquy id="2069″]
Into Stoas — Athenian Walkthrough by Street Design Words. Renders by WeRender
One sunny morning of past January then, finds me and Natassa having coffee (again) at the Arcade of Merchants near Syntagma Square. Under the Traces of Commerce initiative, A Future Perfect had set up a temporary workshop there along with another 11 creative groups that had been offered a space for a period of three months, at the ground floor of the disused building of Social Security Fund for the Merchants. Natassa announced she was finally self-publishing her project on the arcades, in what culminated into an indexed guide to navigate the network, based on the signage at the entrances and exits of the arcades – and it seemed only natural that she was planning to have the presentation of the guide there,  in collaboration with neighbours Athens Zine Biblioteque. As we were going over her test prints I looked for the Arcade of Merchants on the map and Natassa pointed at number 31 on the Index Page. The orthogonal arrangement of the arcades' network fragments immediately caught my eye. It looked like a peculiar alphabet, one you would use to put some elusive narrative about this city into text. So there it was in front of me the next addition to our Concrete Cities collection. Our stay at the Arcade of the Merchants seemed to have put the pieces of the puzzle together and our collaboration with Natassa for the Into Stoas project was finally taking form – a concrete relief form to be precise.
[soliloquy id="2070″]
Into Stoas (Index) coasters from The Concrete Cities collection. Natassa Pappa for A Future Perfect
Into Stoas project pays a tribute to the uniqueness, individuality and beauty of the city of Athens and its architecture  and it does so in an abstract way, ready to be filled with ones personal memories, experiences, notes … and coffee stains.  What is more it became the starting point for a series of creative collaborations not only among Natassa and A Future Perfect but also Paperkingdom publishers, the Athens Zine Biblioteque, 3d printing workshop Fixers, video artist Thodoris Prodromides and photographer  Petros Nikoltsos. Into Stoas – Athenian Walkthrough city guide along with the outcome of these collaborations will be presented this Thursday 26th of February at The Gallery of The Merchants (Stoa Emporon), Voulis 8-10 Syntagma, starting 7.30.