The square as symbol, object and meeting place
Located at the bottom of a valley, surrounded by the high mountains of Telemark, the city of Rjukan remains in the darkness and the shadow during most months of the year since the Nordic winter doesn't allow the sun to shed its light to the city. A project envisaged by Sam Eyde back in year 1917, a huge mirror installed on the top of the mountain which would reflect the sun and illuminate the light back to the city, is now possible. The city of Rjukan seeks the redesign of its central square in order to be ready to receive the "reflected gift".

Space analysis as design methodology
The changing perspective of the observer as he/she moves inside a space-as-object illuminated by the mirror's reflection forms the central design insistence of the proposal. The construction of the scandinavian simplicity by means of different moving patterns is studied through five formulative design strategies that create a new, active and contemporary spatial language:
-the strategy of the inclined planes/ramps
-the elevated observatory point
-the network of the two Rings
-challenging moving patterns
-the syntactic nodes for the undisturbed observation of the reflecting mirror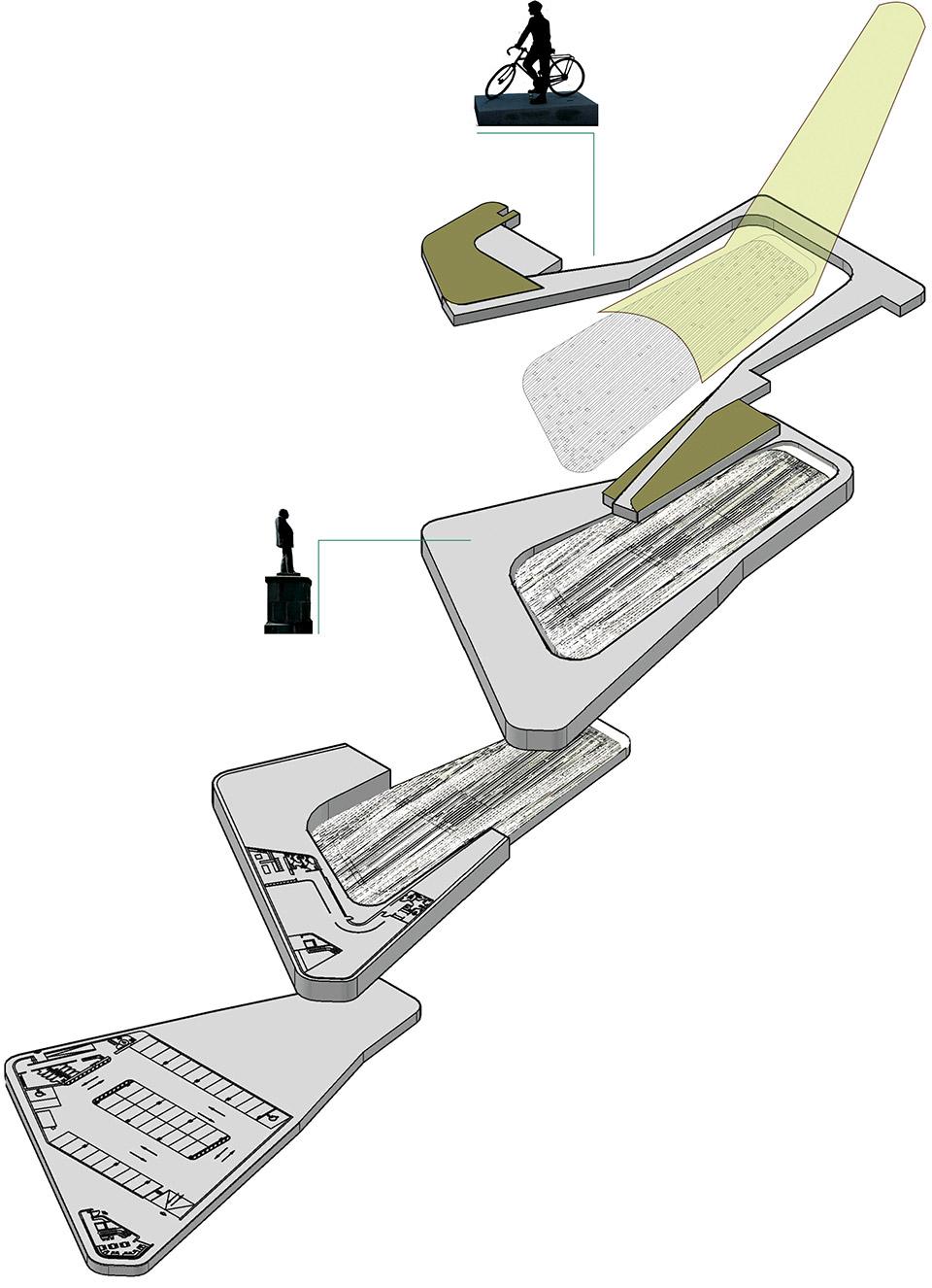 The proposal leaves the square open and free of the existing parked cars, returning the place back to its citizens for public use. Its strategic design doubles the spatial opportunities for new societal meeting places and allocates public activities along two different inclined tracks (storstue1 and 2).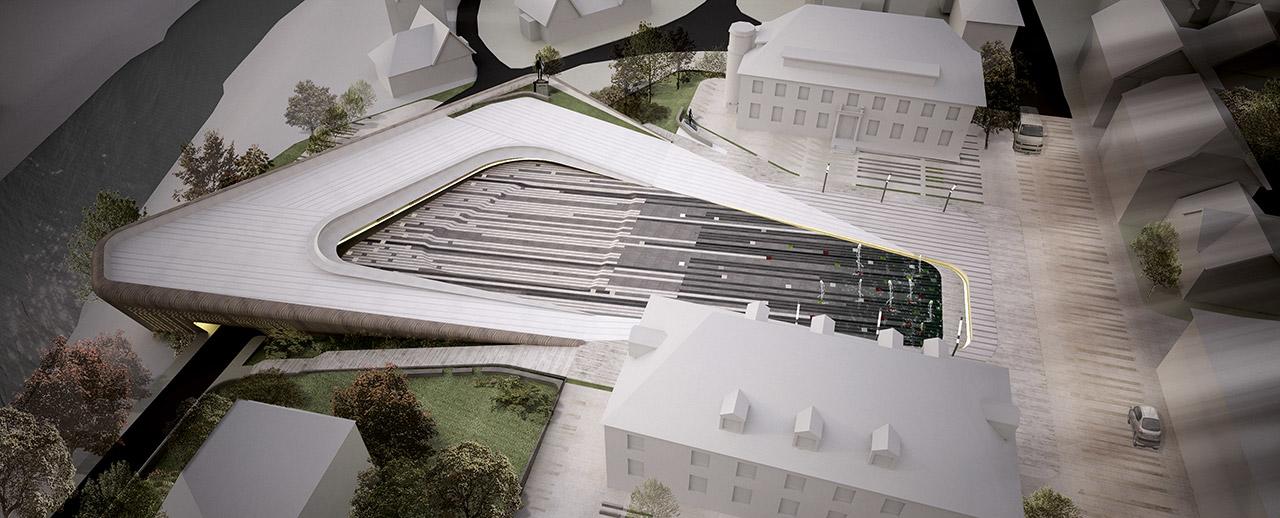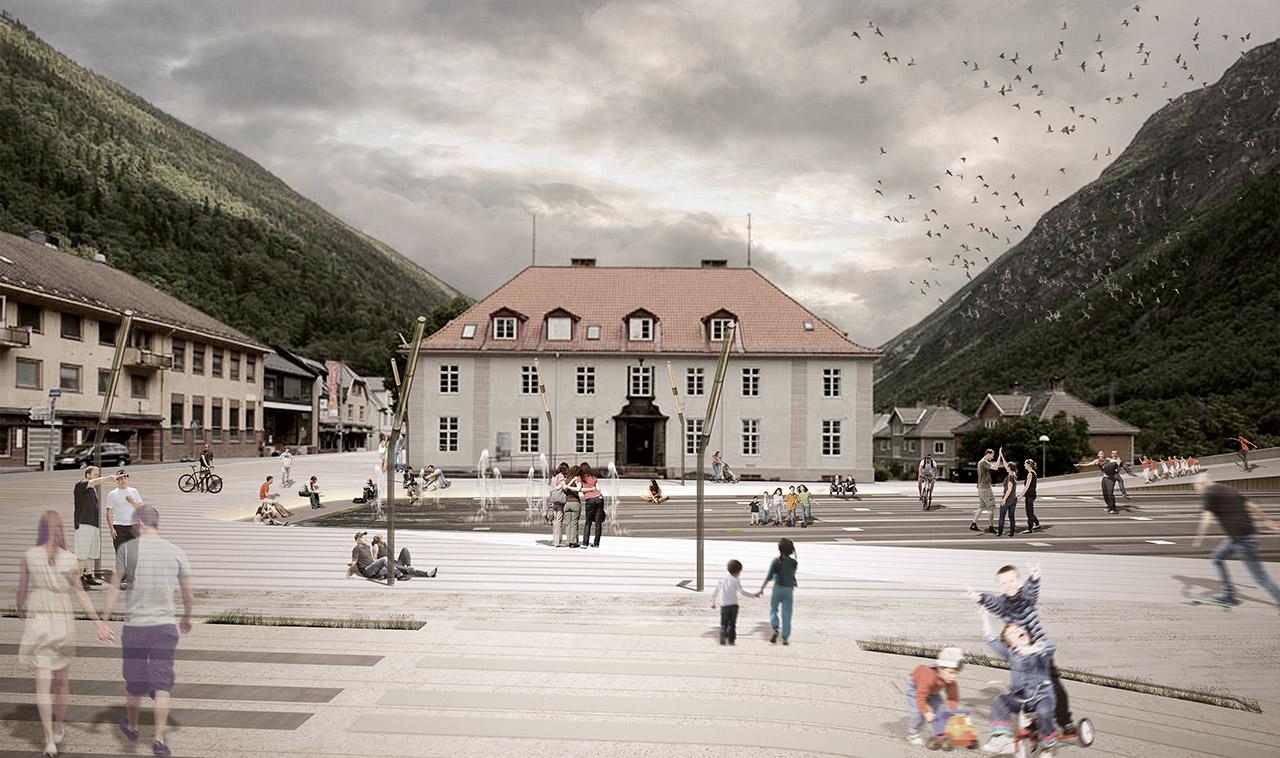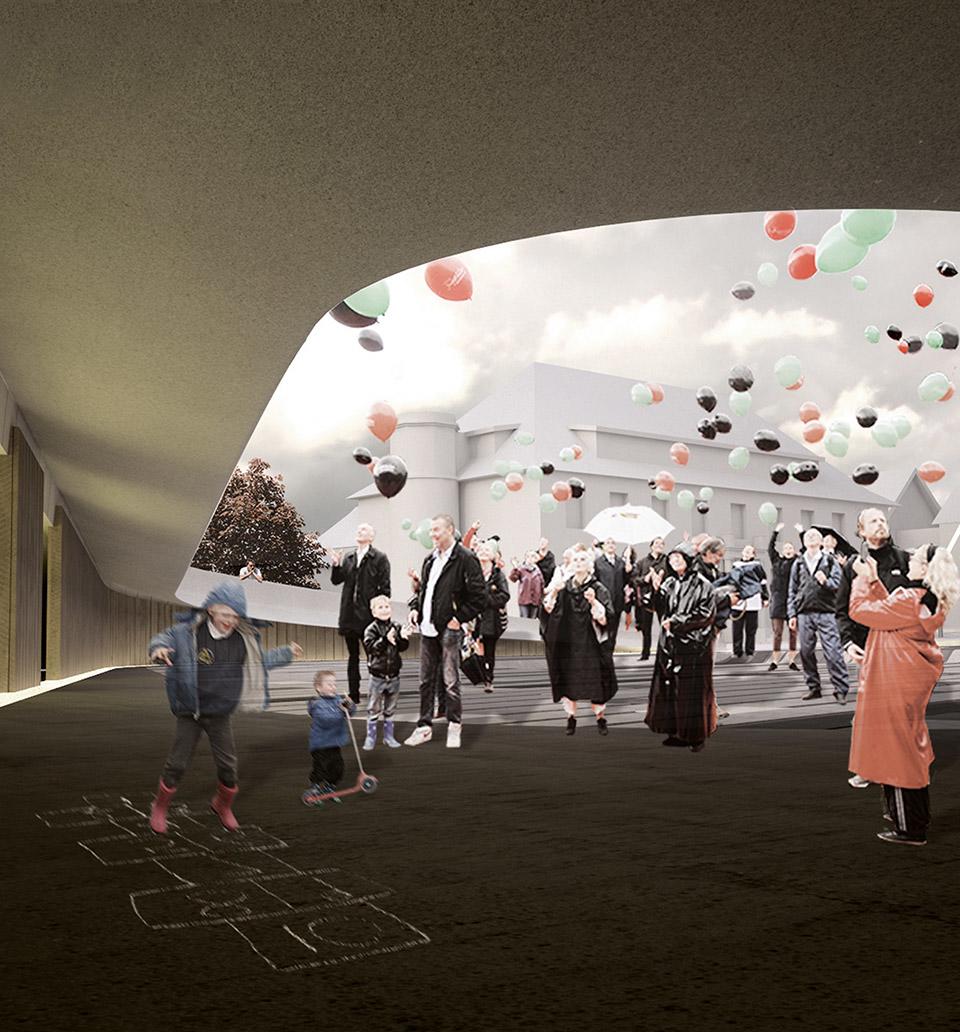 By this way, 5000 people can gather, if necessary, to the city center. The spatial capacity increases without disturbing the two historic buildings and 3.800 sq.m. of new open public space is offered to the city.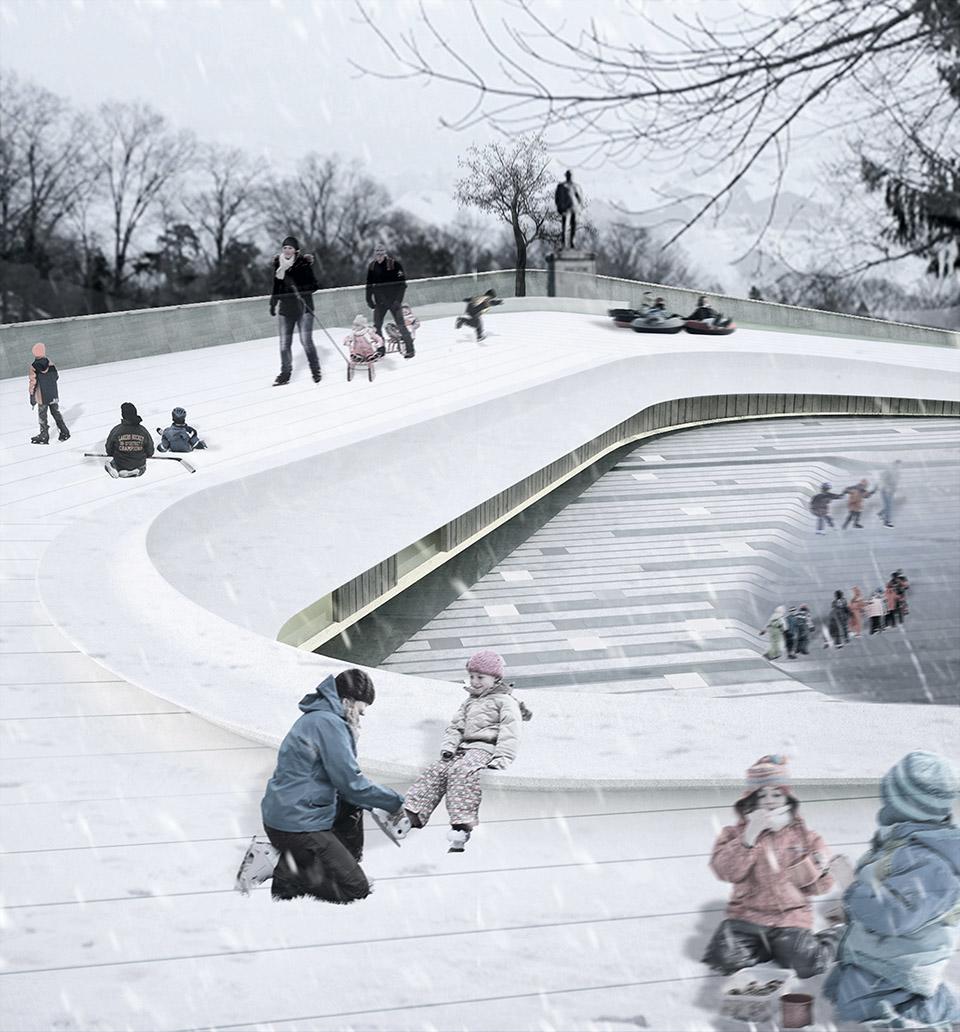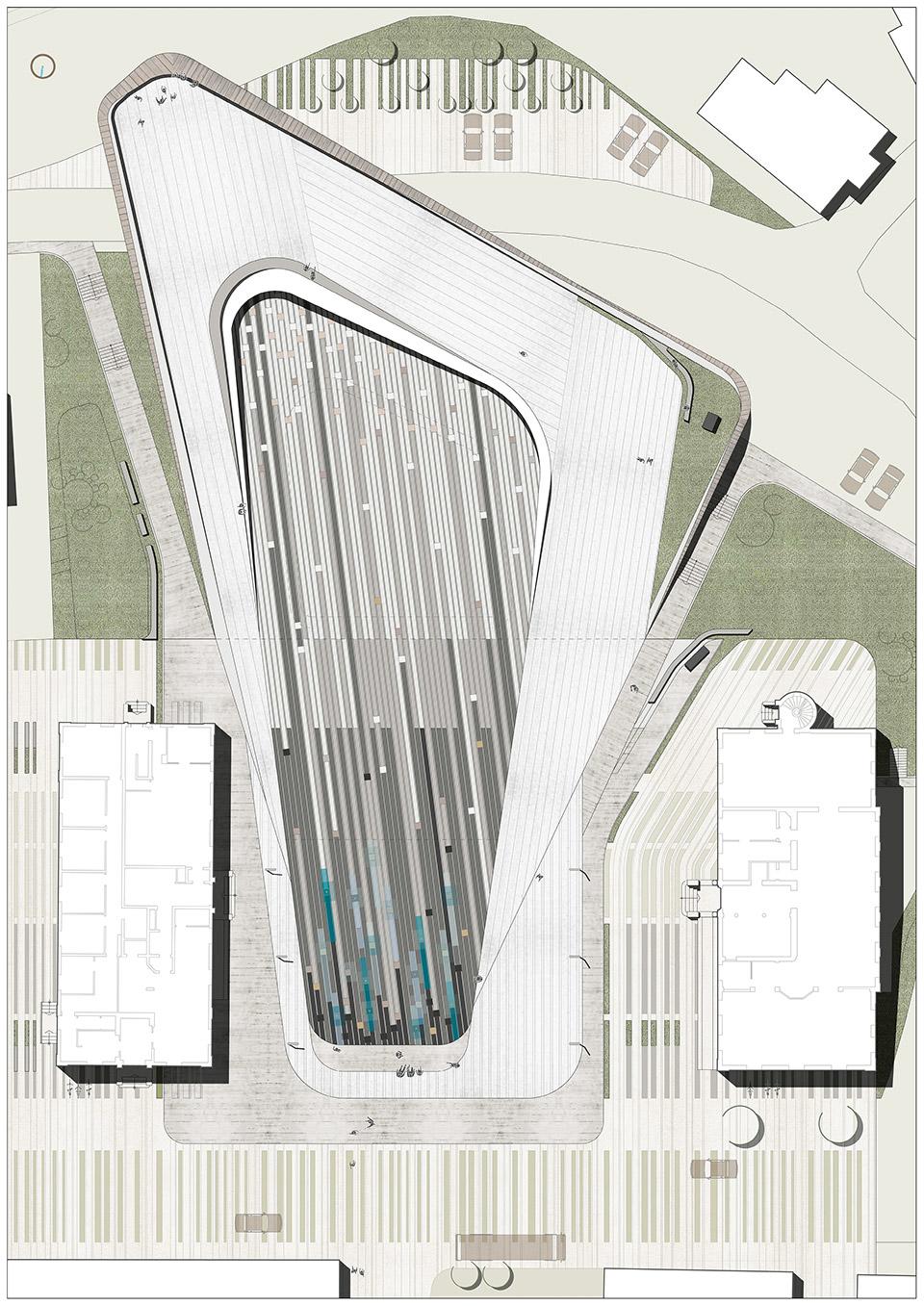 Considering openness as a positive quality that should be kept during the whole year, design made provision so the square can be accessible by the snow thrower car during the heavy Nordic winter – for this reason the urban furniture is positioned along the periphery of the square while the proposed spatial morphology generates opportunities for sitting and recreational facilities.
Project info
project name: The Return of Place
Architects: aaiko arkitekter (NO), D. Gkikas (HR)
place: Rjukan, Norway
original title / byrommets tilbakekomst, rjukan, norge
public space total surface: 6.000 s.m.
indoor space total surface: 2.800 s.m.
competition organizer: municipality of Tinn, norway
study period: November 2012 – February 2013
category: architectural study
Aaiko Arkitekter, was founded in 2005 by Konstantinos Ioannidis and Isidora-Ageliki Kolia and is based in Oslo, Norway. Their study for the redesign of the central square in the city of Rjukan, received the Leonardo 2015 prize at the International Biennale of the XI Festival of Architecture held this year at Minsk, Belarus and has been selected to be showcased at the 8th Young Architects Biennial to take place in Athens in September, proudly supported by SIAS SA.