Redesigning the city-sea boundary of Koum Kapi area in Chania and reclamation of it from pedestrian/user through synthesis of spaces and creation of structures that foster the intercourse of different qualities of urban, natural, historical and cultural landscape is the subject of this proposal. The main design quests are: promotion/ enhancement of water element, sustainable mobility, bioclimatic approach, simplicity in design and selection of natural elements.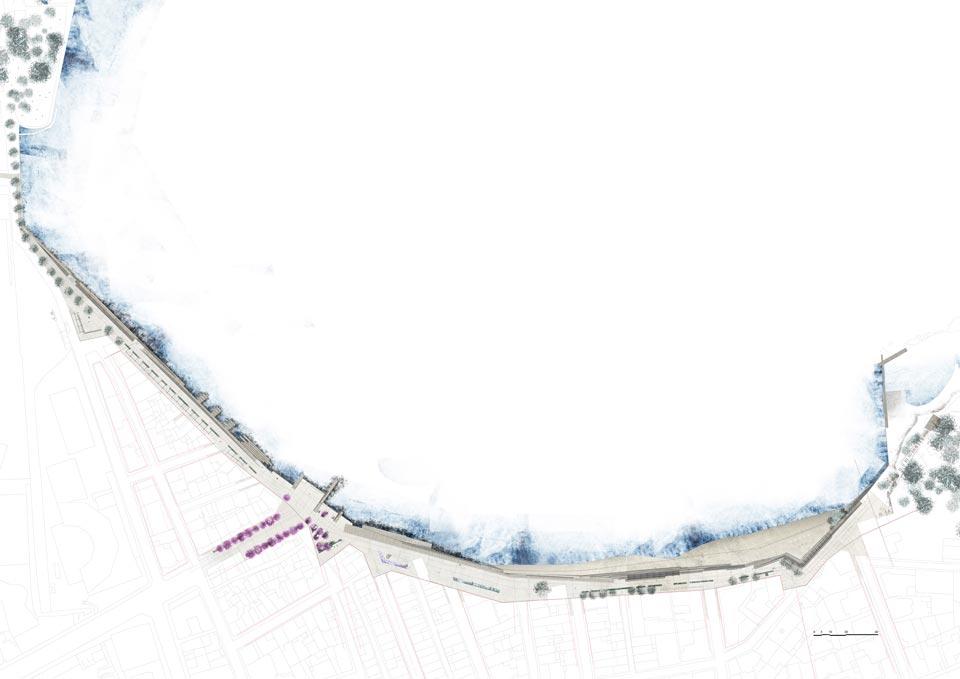 Design is set out all along the coastal zone, creating three interrelated and transient "lines":
a) "blue line" of waterfront – sandy beach boundary, b) "green line" of natural green elements, c) " fawn line" of wooden interventions (stitching urban-natural landscape) that create, define and transition new public urban landscape according to seasons of the year while protecting from weather conditions.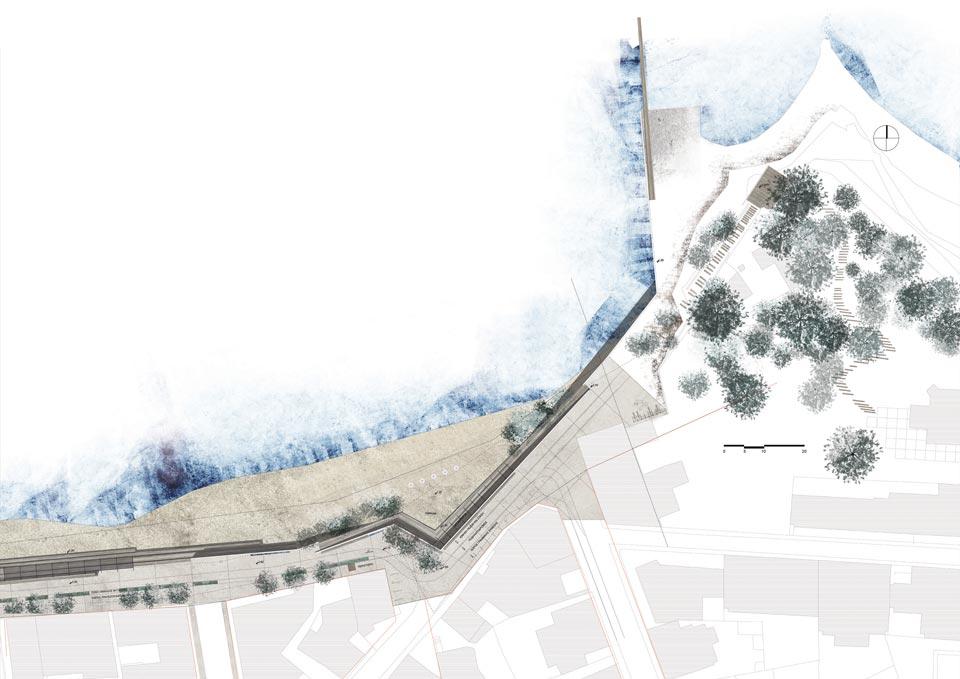 The existing walkway is reshaped and evolves into a network of sceneries, feelings, movements and stops. Public space penetrates the sea and natural element flows in between and along of the proposed new functions generating places of different qualities and new urbanity. Creating different qualities plateaus along the area define a conceivable path that marks the transition from a highly historical – cultural center to the boundaries of contemporary transient urban landscape with seafront and land formation.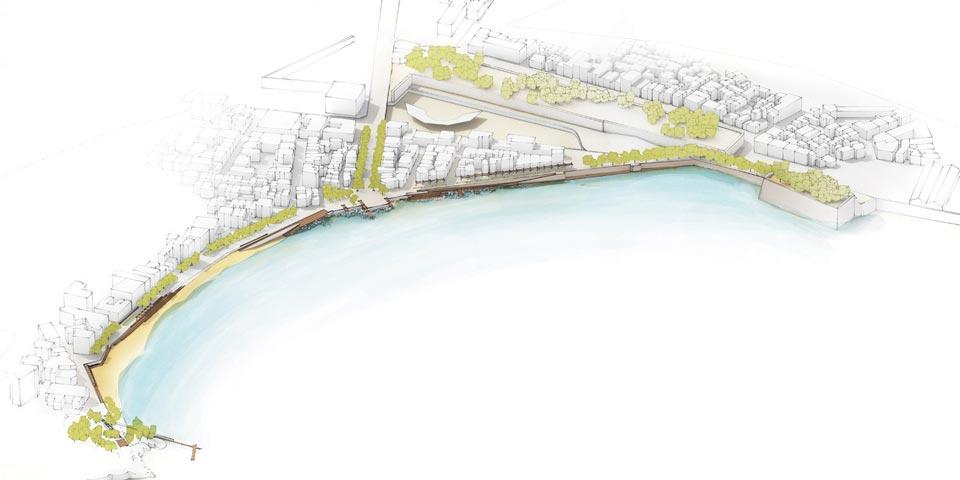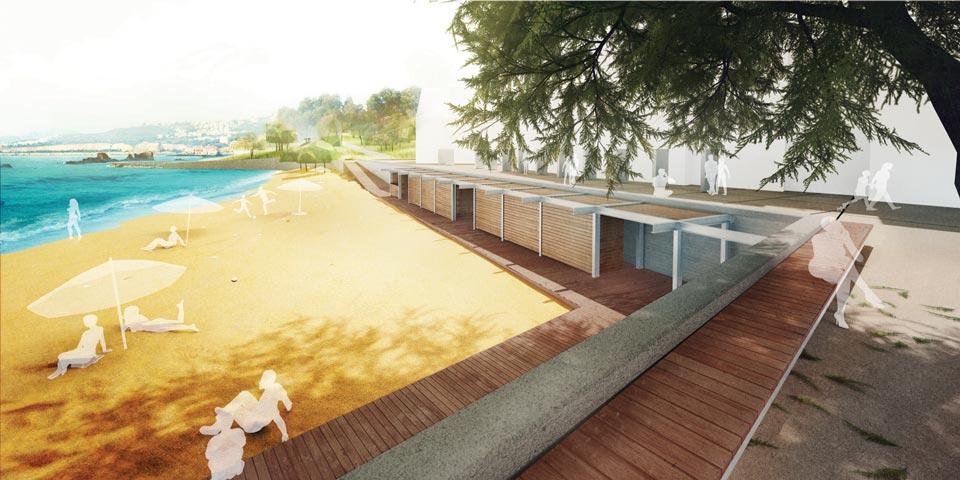 Three basic "instances" are pointed out. The first one – an urban plaza connected spatially and conceptually with the historical Venetian Walls and the visitors' flows from the historic city center. The second one is taking place at the linking node of a main road axis and the seafront through high planting and dissolution of the axis into piers thus the viewings and city flows "immersing" in water. At the end of the walkway the strong presence of natural elements (golden sand, crystal clear waters and vegetation) indicate the third instance where the urban space recedes while highlighting the natural landscape of Koum Kapi.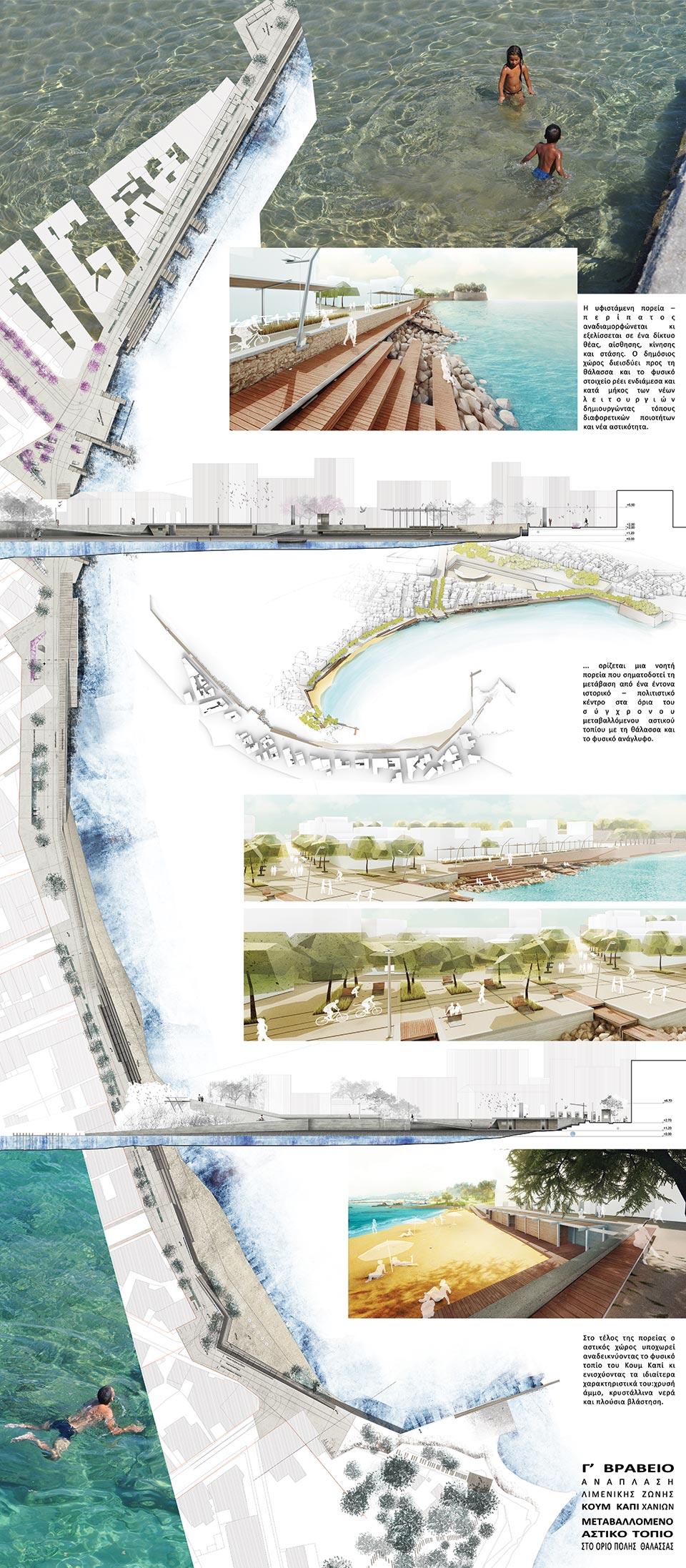 Project info
Location:
Sea front of Koum Kapi Chania Crete
Architectural Competition for Urban Regeneration of Koum Kapi Sea Front area in Chania.
Design: DESARCH ARCHITECTS
Architects:
Sonia Mavrommati, Architect – Urbanist NTUA, Adjunct Professor School of Architecture NTUA
Eleftheria Stavridi, Architect Engineer NTUA, M.Arch College of Environmental Design, UC Berkeley
Georgia Papathanasiou, Architect Engineer NTUA, MAS in Urban Design ETH Zuriche
Georgia Gkoumopoulou , Architect – Urbanist NTUA, MSc Urban & Regional Planning NTUA, PhD Candidate NTUA
Collaborators:
Anna Moraitou, Architect Engineer NTUA, MSc Architectural Design – Space – Culture NTUA
George Adamopoulos, student of Architecture NTUA, Researcher UIE
Scientific Consultants:
Vassiliki Tsoukala, Civil Engineer, Assistant Professor NTUA, LHW
Noni Maravelaki, Associate Professor, School of Architecture TUC
Vassilis Perdikatsis, Professor, School of Mineral Resources Engineering TUC
Venetia Mataliotaki, MSc Landscape Architect (ING), Wageningen University, The Netherlands
Year of Study: 2013
DESARCH is an Athens based architectural and urban design practice, established by Sonia Mavrommati. Their proposal in the Architectural Competition for the Urban Regeneration of Koum Kapi Sea Front area in Chania, GR, has been selected to be showcased at the 8th Greek Young Architects Biennial inaugurated in Athens in September, proudly supported by SIAS SA.