Re.architecture. RE.cycle, RE.use, RE.invest, RE.build, showcases contemporary architectural and urban strategies that question the way modern-day cities are built. From 12 April to 8 July, fifteen agencies will present their original concepts to enact change upon cities and in turn impact on city-life, at the Pavillion de l' Arsenal in Paris.
The exhibited proposals highlight unused urban space and structures reclaim interventions. Urban infills, waste lands, abandoned buildings and infrastructure are treated as a plane of possibilities, while commiting "to save that which is not renewable and reuse what can be recycled". Through videos, drawings, interviews plans and photographs, the exhibition depicts the entire process upon completion of each project, outlining special conditions, participative actions and the experimental and innovative nature of their research.

LE 56 / ECO-INTERSTICE, PARIS 20, AAA – Atelier d' Architecture Autogérée.
An urban interstice, transformed into a collectively managed space.
© AAA – Atelier d' Architecture Autogérée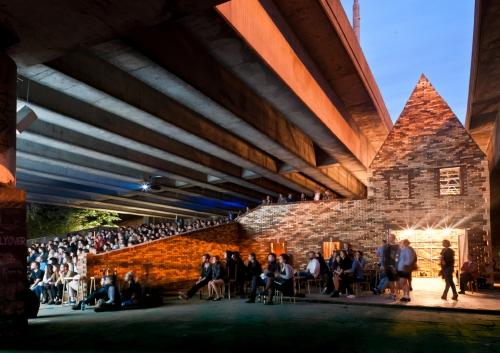 Folly for a Flyover, Assemle, London.
A neglected and unwelcoming motorway, transformed into a host space for residents and visitors. © Assemble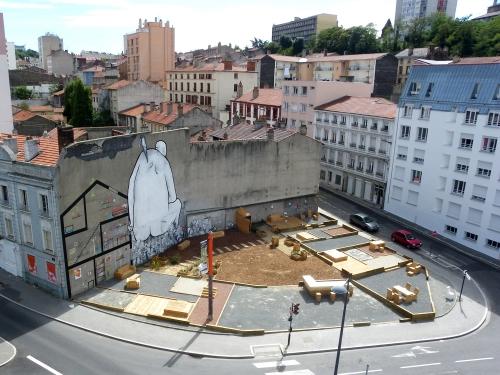 Time for change, Saint-Etienne, Collectif Etc.
The ficticious plans of a an appartment building to be built, are projected on the ground and adjacent walls of an empty lot. © Collectif Etc

EICHBAUMOPER, MÜLHEIM, Raumlabor, Berlin.
A dipapidated station, an urban "no-place", transformed into a marketplace for modern and diverse aspirations of contemporary urban society. © raumlabor
Participants are: AAA – Atelier d'Architecture Autogérée (Paris), Andrés Jaque Architects (Madrid), Assemble (London), Bruit du frigo (Bordeaux), Collectif Etc (France), Coloco (Paris), DUS Architects (Amsterdam), Ecosistema Urbano (Madrid), Exyzt (Paris), MUF architecture/art (London), Practice Architecture (London), Raumlabor (Berlin), Rotor (Bruxelles), ZUS [Zones Urbaines Sensibles] (Rotterdam), 1024 architecture (Paris).
Pavillon de l'Arsenal, initiated in 1998, is the centre for information, documentation and exhibition for urban planning and architecture of Paris. It is a unique place, where information concerning urban development and architectural realisations in Paris is available to everyone.
Source: Pavillion de l' Arsenal