Yona Friedman, "Ville spatiale," 1959–1960.
Handbusch, is a Yona Friedman's exhibition launching on the 28th of June at Chert & Motto Gallery in Berlin, initiated by Cneai. Invited by Chert and Motto within the context of Paris-Berlin exchange, Cneai devises a staging of Yona Friedman's published works, a project's encyclopedia, a public usage of a very personal and unique way of thinking.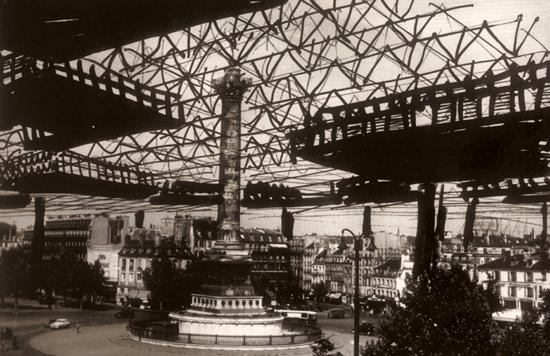 Yona Friedman, "Ville spatiale," 1959–1960, Collage.
Architect, theorist and urbanist, Yona Friedman (1923, Budapest), has developed a set of visionary concepts and projects that elaborate the idea of enabling the citizent to shape his living environment. Urged by the need to provide shelter for an increasing number of homeless population after World War II, Friedman proposed 'Panel Chains' (1945) and 'Moveable Boxes' (1949), elementary housing projects comprised of prefabricated elements. These designs, incorporated cheap to produce, easy to transport and highly variable elements, foregrounding Friedman's architectural philosophy that living spaces should be determined by their occupants, according to their experiences.
Following these first attempts, he published on 1958 his 'Mobile Architecture' manifesto, defining the role of the architect as a 'facilitator', limiting his intervention to the provision of the essential building structure, while other elements become mobile, like furniture, for the occupants to arrange.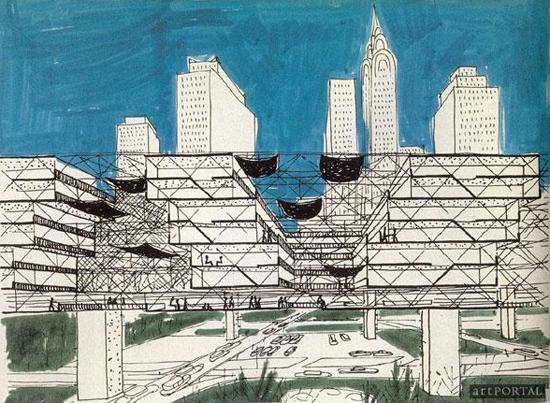 Yona Friedman, "Ville spatiale," 1959–1960.
His seminal work, 'Spatial City', is nothing less than the materialization of the concepts developed in 'Mobile Architecture'. In 'Spatial City' , Friedman proposes a design of a three-dimensional, multi-storey grid, an infrastructure suspended over ground on huge piles that spreads over existing cities marshlands, farmlands or water.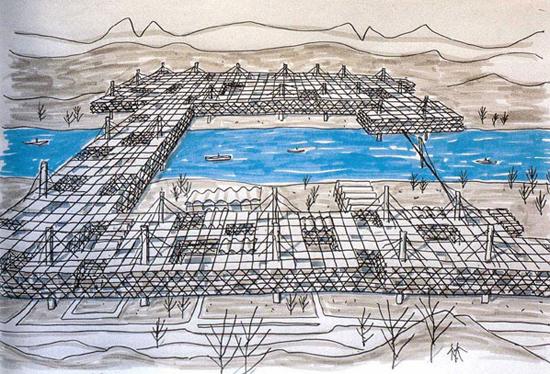 Yona Friedman, "Ville spatiale," 1959–1960.
Within this collective and fixed infastructure, the inhabitants enjoy full freedom of determining their dwellings by way of arranging mobile elements like walls, base surfaces and interior divisions. In 1961, he proposed the 'City-Continent', a Europe forged into a single unit by an express train network and then 'Urban-Village', where a "critically limited group", move freely between destinations of the City-Continent, while consuming the city products based on a logic of proximity.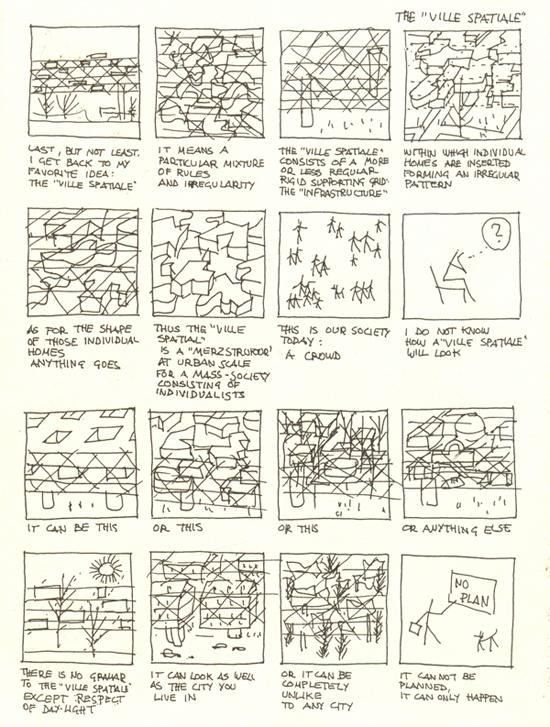 Yona Friedman, "Ville spatiale," 1959–1960.
In Friedman's work, concepts follow naturally form self-planning and mobile architecture to define the 'Spatial City', the 'City-Continent' or 'Urban Village'. Then With 'Realisable Utopia', his 1975 manifesto, he goes on to define the conditions on which the realisation of his concepts rests. Although most of his work has remained on paper, Friedman has always striven and accomplished to disseminate his ideas and messages through many different formats, rendering them accessible to a wide audience of potential so-called self-planners. He employed designs, photomantage, posters, publications, animations as well as a great number of 'Manuals', comic-strip images that illustrate the how-to realize his visions, providing the future resident with confidence in their own potential as a decider, planner and designer.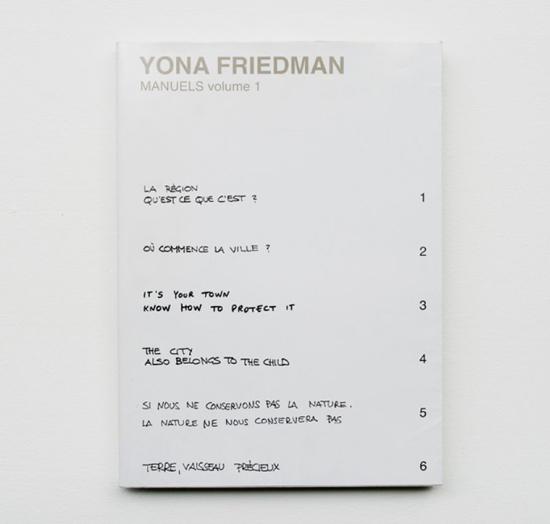 Yona Friedman, Manuals, Volume 1, Cneai publications, 2007.
The exhibition at Chert-Motto will showcase his 'Manuals' edited in three volumes by Cneai between 2007 and 2009, as well as other publications deriving from a ten year collaboration between Friedman and Cneai, like Architecture Without building, 2012, Films d'animation (Animated flms), DVD, 2007 and more.
source: Cneai, Megastructure Reloaded