Haus-Rucker Co., Fly, Environment Transformers, 1968.
Haus-Rucker Co, together with Ant-Farm, Superstudio and Archizoom, form a group of experimental architecture collectives that emerged in the 1960's. Their work eloborated concepts on utopian perceptions of the city, exploring the potential of architecture as a means of critique and performative device for envisioning new living configurations. Haus-Rucker Co. were founded in Vienna in 1967 by Laurids Ortner, Günther Zamp Kelp and Klaus Pinter and later joined by Manfred Ortner. Their experimental work has been exhibited internationally, including  Documenta 5, 6 in Kassel, Germany. Their dissolution in 1992 was marked by a major show in Kunsthalle Wien, that covered the whole range of their output. 20 years after, WORK Gallery in London, organizes Inner World / Innen Welt: The Projects of Haus-Rucker-Co., 1967-1992, a retrospective show as part of London Festival of Architecture parallel events, open until September 1st.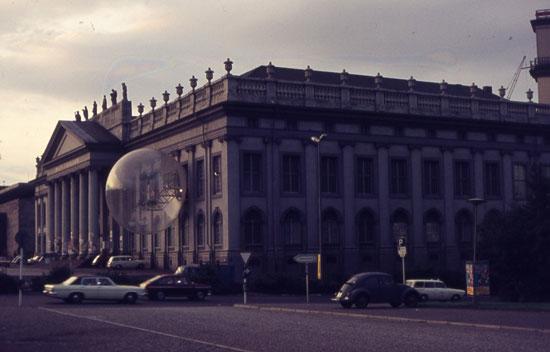 Haus-Rucker Co., Oasis No.7, Documenta 5, Kassel, 1972.
Haus-Rucker Co.'s  work explored the performative potential of architecture through installations and happenings using pneumatic structures or prosthetic devices that altered perceptions of space. Taking their cue from the Situationist's ideas of play as a means of engaging citizens, Haus-Rucker-Co created performances where viewers became participants and could influence their own environments, becoming more than just passive onlookers. Works like Yellow Heart, 1968 and Oase Nr. 7, presented in Documenta 5, 1972, used inflatable structures to create spaces that enhanced or changed the user's spatial experience. Yellow Heart was a two-person capsule containing a plastic matress that expanded, flowed out and pulsuted in intervals, where as Oase Nr. 7 was an 8 meter spherical protrusion on an existing building, that created an one-person space for relaxation and play.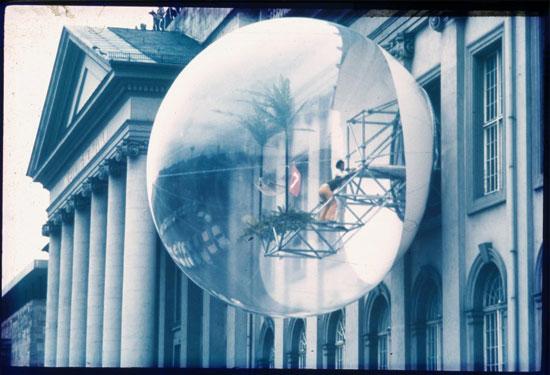 Haus-Rucker Co., Oasis No.7, Documenta 5, Kassel, 1972.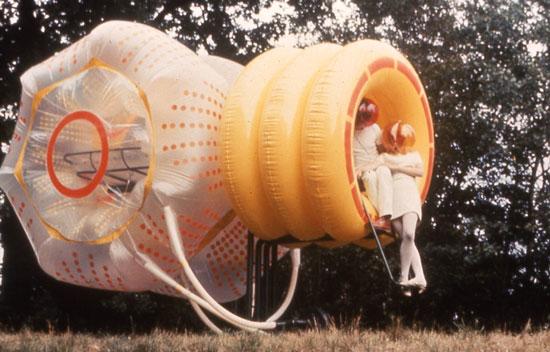 Haus-Rucker Co., Yellow Heart, 1968.
Their most memorable images however, were produced by the Mind Expander series. The different versions produced between 1967-69, consisted of various helmets that could alter the perceptions of those wearing them, for example the 'Fly Head' disoriented the sight and hearing of the wearer to create an entirely new apprehension of reality.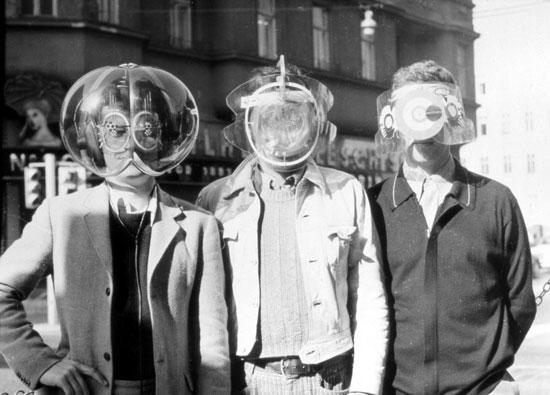 Lauridis, Zamp, and Pinterwith Environment Transformern: Flyhead,  Veiwatomizer and Drizzler.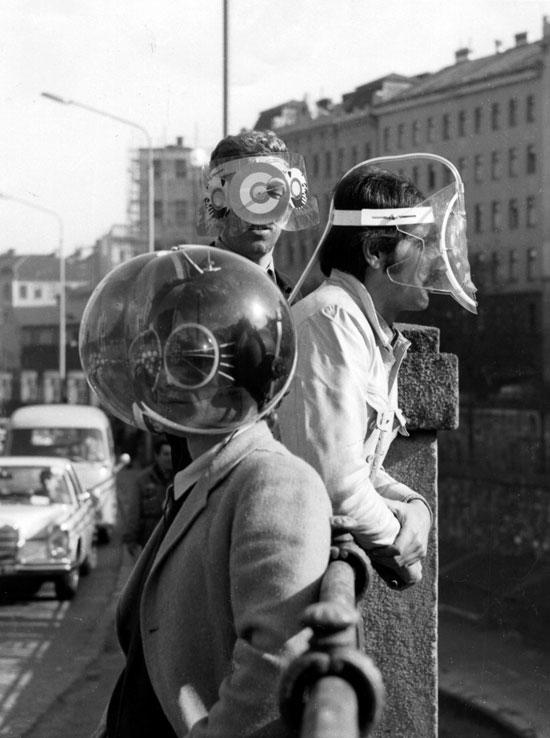 Lauridis, Zamp, and Pinterwith Environment Transformern: Flyhead,  Veiwatomizer and Drizzler.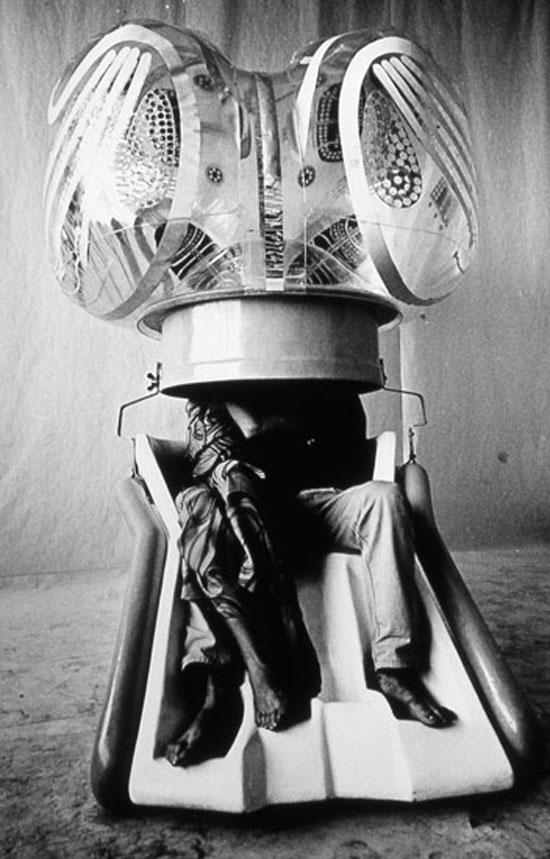 Haus-Rucker Co., Mind Expander, 1967
Another set of the group' s projects dealed with altering the perception of architectural objects and spatial relationships within public spaces. In Cover, 1971, a Mies Van der Rohe house designed in 1921 was covered with a white-coated air-supported hall, in which not only the garden plants started to change but also the L-shaped proportions of the house itself. Inclined Plane, 1976, divided the long space of Naschmarkt food market in Vienna in two distinct parts and Frame Building, presented in Documenta 6, 1977, was a 13 x 13, 1.6 wide metal structure that acted as an optical device, organizing a set of city views experienced in a performative manner.
Haus-Rucker Co., Cover, 1971.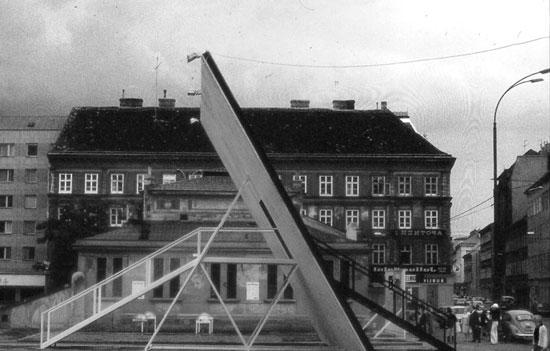 Haus-Rucker Co., Inclined Plane, 1976.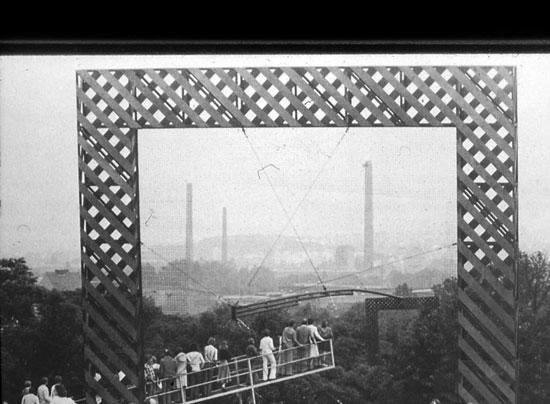 Haus-Rucker Co., Frame Building, Documenta 6, Kassel, 1977.
Haus-Rucker-Co's installations served as a critique of the confined spaces of city life creating temporary, disposable architecture, whilst their prosthetic devices were designed to enhance sensory experience and highlight the taken-for-granted nature of our senses.
sources: 0&0, Work gallery