Demolition refers to the process of breaking buildings or structures apart. It is the exact opposite of construction, which pertains to putting all parts and pieces together. As an act of erasure within the city, demolition comes together with erasing a part of urban history or collective memory. On the other hand it can be an act of correction or renewal within the city.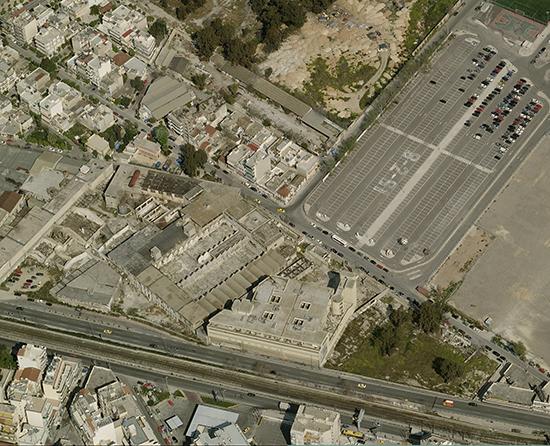 AiGAION Thread Mill Industry, aerial view, screenshot, 09.2012
In its growing and transforming, city often discards parts of it. The built environment cannot pace up with social shifts, so structures intended for certain uses are trapped in a way within the urban grid. We will try to map transgressive moments of the city forcing erasure upon these fragmentary, inarticulate structures, that occured the past few years.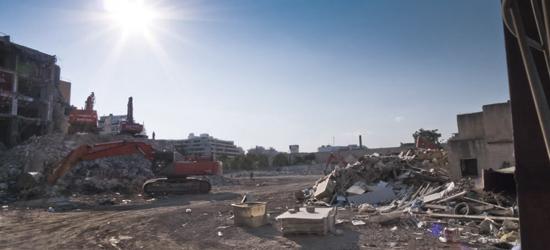 AIGAION Thread Mill Industry, demolition site.
During the 1930's, textile and yarn production peaked in Greece, when a number of plants were constructed in the areas adjacent to Piraeus port. Those premises remain today vacant, neglected and run down. AIGAION Thread Mill, and Mouzakis Sewing Thread Industry are two of them, having faced demolition. They have also raised a discussion on the importance of preserving the structures as part of the industrial history of the country as well as the industrial character of the areas instead of introducing other commercial uses.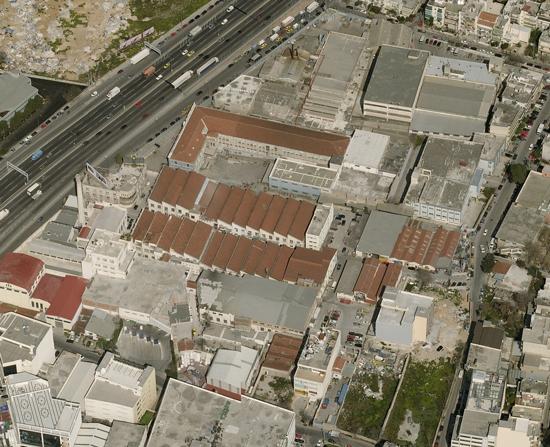 Mouzakis Sewing Thread Industry, aerial view, screenshot, 09.2012.
AIGAION Thread Mill was located on Mikras Asias Avenue. The premises were built between 1924-1950 and the industry was active until 1990. The demolition begun on June 2011 although an act from the Ministry of Culture was initially issued for preserving the building. Mouzakis Sewing Thread industry, known for Petaloudas sewing thread, is located on Kifissou Avenue, near Akadimia Platonos area. The premises were built during the 1930's and kept expanding until 1969. Between 4-8 April 2011, part of the premises were demolished, including the L shaped tiled roof building of architectural qualities characteristic to industrial buildings of the era. The demolition was finally suspended by the Ministry of Culture and is still under consideration to the day.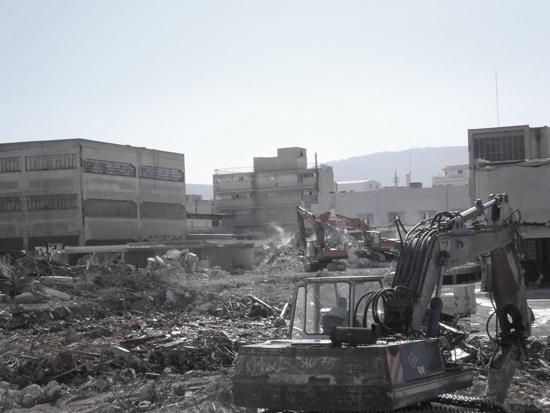 Mouzakis Sewing Thread Industry, demolition site. 
As an act of earsure, demolition conjures the way memory is spatialized within the city fabric. It brings about a sense of frustration and controversy that we could trace on the outdated satellite views of mapping the city, still depicting the tore down structures.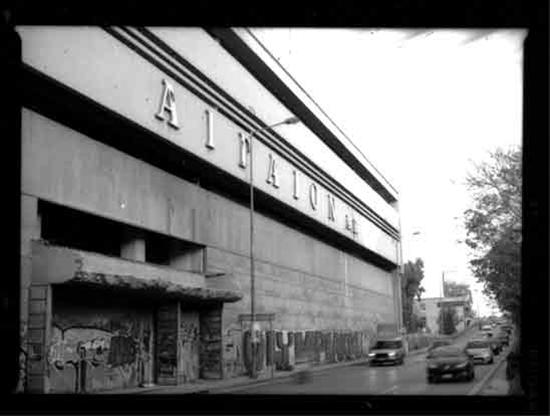 AIGAION Thread Mill, view from Mikras Asias Avenue.
Industrial ruins on the otherhand, evoke some sort of disordered space that does not abide to the aesthetically and socially regulated spaces of heritage and commemorative space. In its growing, shifting and evolving, the city has generated its own regulatory mechanisms and their counterparts, to determine and value what is worth for preservation. In the disordered space of Industrial ruins, those mechanisms might find some more evocative configurations of social remembering, bound with a more tactile encounter of space and materiality.