One Step Beyond by OKRA, Scenography of Athens' Metropolitan Centre.
The much awaited results for Rethink Athens, the Onassis Cultural Centre Competition for the regenation of Athens' City Centre were announced last Wednesday, awarding Dutch Architectural Office OKRA the first prize. The winning proposal called 'One step beyond', aims to bring contemporary ideas on climat control in cities, ideas on changing transportation nodes and on activating public realm a step further than already realized in many European cities. By introducing a green spine along Panepistimiou street to connect Syntagma and Omonoia squares, along with a strategy of occupying 1000 groundfloor spaces in vacant buildings with cultural activities, the winning proposal promises a vibrant, accessible and revitalized heart of the city to be completed by 2015. Continue after the break for more visuals and a detailed project description by the architectural team.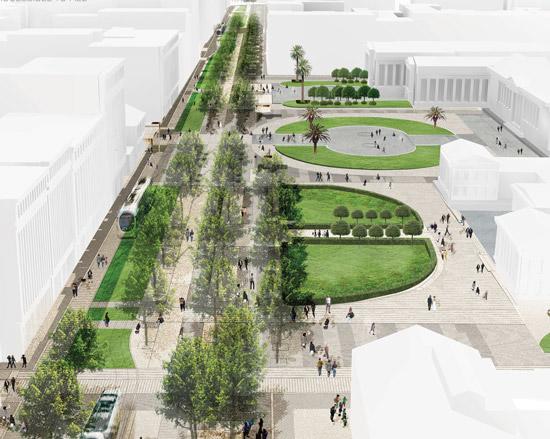 Panepistimou & the Trilogy: A vibrant streetscape accessible to all.
FIRST PRIZE – One Step Beyond
OKRA LANDSCHAPSARCHITECTEN BV (Knuijt Martin)
MIXST URBANISME (Thoral Ingeborg)
WAGENINGEN UNIVERSITY, Department of Environmental Sciences, Landscape Architecture Group (Klemm Wiebke, Steenbruggen Arian, Heusinkveld Bert)
STUDIO 75 (Pantos-Kikkos Stefanos)
WSGReenTechnologies GmbH (Peretti Guilia, Bruse Michael, Winterstetter Thomas)
Challenges – Changing the heart of Athens into a true contemporary metropolitan city centre requires transformation of the city triangle into a lively part of the city. Newly gained space, as a result of the major step towards a walkable city by reducing car traffic in this area, can be transformed into a vibrant, green and accessible heart of the city. We will take contemporary ideas on climate control, reduction of vehicular movement and programming of the public realm one step beyond: Into an integrated proposal, creating a resilient, accessible and vibrant city, not just limited by its project borders, but linking this area to its adjacent ones and becoming a catalyst for the whole city.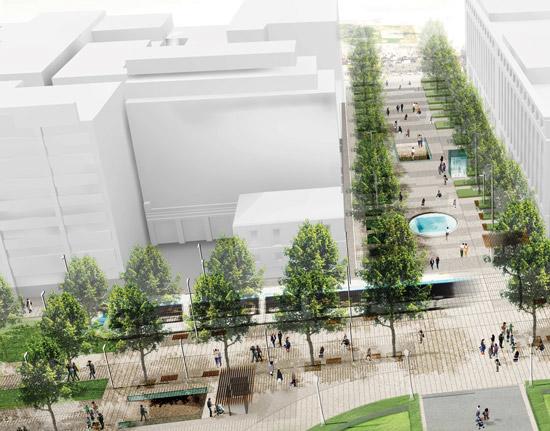 Junction Korai Street meets Panepistimiou Street.
Resilient City – Panepistimiou will be transformed into a green spine, central in a green network, providing shade and shelter. The resilient strategy includes specific attitudes towards reducing the urban heat and improving thermal comfort (natural cooling by greening and shading the public realm, green roofs and facades, cool pavement), reducing air pollution, decreasing energy use and resolving water issues (storm water retention and irrigation). Turning the city triangle into a green framework, transforming its corners into green areas, and connecting this framework to the green hills around the city centre results in mitigation of urban heat – not just limited to Panepistimiou, but also extending its effects upon the whole Metropolitan Centre. A greening strategy for Athens is combined with a water strategy, since the good condition of plantings is a crucial contribution to heat reduction. Capturing rainwater in underground basins, on top of roofs or elsewhere helps to keep the water in the area. Besides the technical solutions, water will be used in a poetical way, by referring to the underground Eridanos river.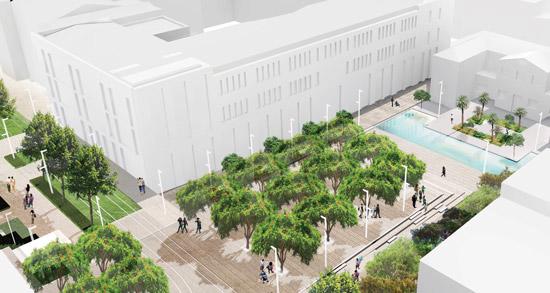 Dikaiosynis Square: Welcoming urban room providing shade and shelter around water feature.
Accessible city – The green framework will be treated as a coherent network of public realm in all directions linking the adjacent neighbourhoods, having its highlight on Panepistimiou. Restoration of the continuities of the crossing streets creates continuity in the walking experience. Making the new tramline a clear and present part of the space will contribute to the aimed cohesion. In fact, Panepistimiou provides Shared space 2.0, a combination between ʽflux' and ʽrelax'. The design has four characteristic places: Syntagma and Omonia Square will become two green urban squares, lush with prominent water elements. Dikaiosynis Square will become a green urban room, installing a fountain house in an empty building linked to activities in a shaded forecourt. In the middle of Panepistimou Street, a green ensemble ties the university together into an urban park.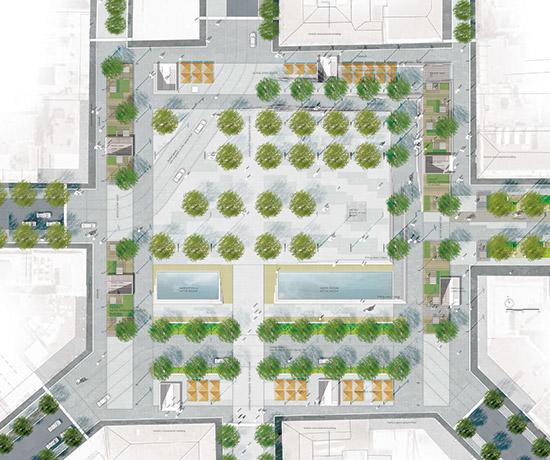 Omonoia Square: A lush and vibrant square.
Vibrant city – Panepistimiou will change from 'street' to 'boulevard', by adding inviting spaces to stay to the linear space. Occupying and transforming ground floors, we introduce the concept of the theatre of 1000 rooms towards vacant buildings, organizing cultural events and shifting focal points that will create a new vibrant atmosphere. Programs are related to Greek philosophy, science, drama and art. In the public realm there will be installed small open-air podia for outdoor initiatives. An 'encroachment zone' will improve active frontages and create linkages between the built environment and the public realm. On a smaller scale the architectural interventions of kiosks will not only focus on commercial space, but some will provide facilities such as 'waterkiosks' or a toy library. Interactive decorative light in the public realm will create the right atmosphere during evening hours.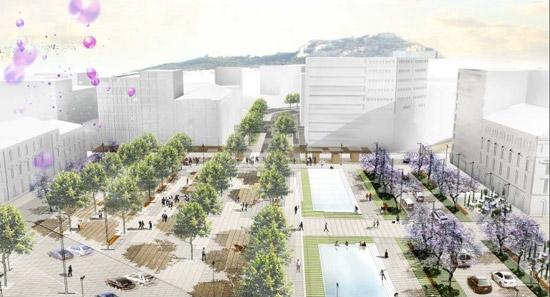 View of Omonoia Square.
By doing this we believe that the project restructures the anonymous space in the heart of Athens and demonstrates that urban vibrancy can be combined with creating a green and pedestrian friendly spine, contributing to the quality of life and living in Athens.
—
The audience will have the chance to view the awarded proposal, along with other nominated projects, at an exhibition curated by architect Panos Dragonas running at the SGT from 27-02 to 06-03 2013.
source: Rethink Athens